Susan Sarandon and Jessica Lange to Square off in FX's 'Feud' From Ryan Murphy
Ryan Murphy is becoming the king of the limited series. FX has given Murphy, the producer of American Horror Story and American Crime Story: The People V. O.J. Simpson, the green light to produce another anthology series called Feud.
The show will explore one epic feud per season, and the first one is a doozy: the feud between Bette Davis and Joan Crawford on the set of the 1962 movie What Ever Happened to Baby Jane? Even though the movie won a boatload of Oscars, the two strong-willed leading ladies absolutely hated each other. And to play the two Academy Award winners of the past, Murphy has tapped two modern-day Oscar winners: Susan Sarandon will play Davis and Murphy muse Jessica Lange will play Crawford. Murphy will direct some of the episodes, and Brad Pitt has signed on as one of the executive producers.
RELATED: How The People v. O.J. Simpson Managed to Create a Suspenseful Finale
To get some context on how intense this show will be, keep in mind that Baby Jane was one of the scarier movies of its time, right up there with Psycho and other legendary horror and thriller movies of the early '60s; it was about a has-been former child star who tortures her wheelchair-bound sister in a crumbling mansion. Also keep in mind that Crawford and Davis absolutely despised each other for decades, jealous of each other's careers and successes. An entire book was written about it, called Bette & Joan: The Divine Feud, in which author Shaun Considine reported that Crawford openly lobbied against her co-star winning the Best Actress Oscar for the movie they starred in together (the award went to Anne Bancroft).
RELATED: Lady Gaga Returning to American Horror Story
With Lange and Sarandon playing the pair, there will be more than enough scene chewing to make a smorgasbord. Sarandon's a perfect fit for the hardscrabble Davis, and Lange playing the demanding, outspoken Crawford (remember the "no wire hangers!" scene in Mommie Dearest?) alone makes us want to watch.
To whet your appetite, here's a scene of Crawford and Davis in Baby Jane: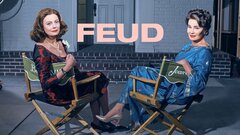 Powered by