Roush Review: ABC's Lively 'Not Dead Yet' Comedy
So much for the long-rumored death of the broadcast network comedy. ABC's brilliant Abbott Elementary keeps reaping awards, CBS's delightful Ghosts is a bona fide hit, and even NBC's mediocre though lovingly retro Night Court reboot got off to a strong start (and was quickly renewed).
Taking a cue from Ghosts, ABC's sillier yet spirited sitcom Not Dead Yet looks to the afterlife to boost the self-esteem of Nell Serrano (Jane the Virgin's effervescent Gina Rodriguez), a 37-year-old hot mess who returns to journalism after a five-year love affair went bust. Heartbroken and humbled, Nell accepts a job at her old newspaper and is put on the obituary beat, which turns out to be anything but a dead end when her subjects begin appearing to her. (My reaction: Why couldn't this have happened to me when I wrote about Angela Lansbury's passing?)
These colorful ghosts are the life of the party, providing light life lessons of self-acceptance from beyond. They enliven a madcap farce that doubles as a workplace comedy set in, of all things, a bustling local newsroom. (I got a kick when a snotty social-influencer ghost played by Brittany Snow quipped, "Is this like a factory of some kind?") Extra points for the bizarre co-worker with a salad fetish.
Those with long memories will acknowledge that conversing with dead people no one else can see has been a TV trope reaching back to the '50s (Topper). But when those saying boo are big talents like Martin Mull (in the pilot, a bohemian jingle writer) and Mo Collins (in the night's second episode, an overbearing inspirational speaker), the gimmick can still feel fresh.
It helps that Nell's life is populated by flesh-and-blood scene-stealers, including New Girl's Hannah Simone as her fun-loving and less neurotic bestie, Superstore's Lauren Ash (almost unrecognizable as her wealthy and mercurial boss), Angela Gibbs as an older-and-wiser acquaintance who understands loss, and Rick Glassman (from Prime Video's too-short-lived As We See It) as her neurodiverse roomie, who unlike the viewer is resolutely unamused by Nell's zany life.
An inspired and ultimately touching rom-com twist to the formula in the fourth and fifth episodes (airing February 22 and March 1) convinced me that Not Dead Yet deserves a long life.
Not Dead Yet, Series Premiere, Wednesday, February 8, 8:30/7:30c; time period premiere 9:30/8:30c, ABC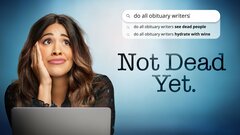 Powered by