'Gossip Girl' Boss Talks Original Series Star He Tried to Get Back for Finale
[Warning: The below contains MAJOR spoilers for the Gossip Girl series finale, "I Am Gossip."]
The Gossip Girl revival on HBO Max wrapped its two-season run with the mention of two major characters from the original series on The CW, and according to showrunner Joshua Safran, they'd tried to get both actors to appear, but scheduling didn't work out.
The teens set a trap by first having Zoya (Whitney Peak) claim she's Gossip Girl, then dropping the rumor that Shonda Rhimes, Ryan Murphy, and Danny Strong were in a multi-million dollar bidding war for the rights to the story. Of course, Kate (Tavi Gevinson) shows up to what she thinks is a Hollywood meeting, revealing she's Gossip Girl to the teens. But there isn't a bigshot producer there; instead, Eric's (Connor Paolo) husband Jonathan (Matt Doyle) is, as is Andy Cohen. They tell Kate her story will be on Cohen's show and the front page of The Spectator: Eric is currently giving the exclusive to Nate (Chace Crawford). Crawford or Paolo was unable to return for the finale.
"We were initially trying to bring Nate back, and we just couldn't make it work with the schedules because Chace shoots The Boys in Canada, and we shoot in New York," Safran tells TV Insider, citing varying COVID protocols for production companies. "We also wanted to bring back Eric because you hear Jonathan talking about being married to him, but Connor was shooting a movie, and unfortunately, we only had one day that we were allowed to shoot inside the museum, and he was shooting his movie on that one day. So, unfortunately, that couldn't be either. It's always scheduling that makes these things so difficult. But having Andy Cohen and having Matt Doyle back as Jonathan was incredibly fun."
If there had been a Season 3 — (the series was canceled the day the penultimate episode dropped) — which original series stars were on Safran's list to bring in? "We always wanted to bring back Nate and Blair [Leighton Meester]. I think those were the next two doors we would've knocked on, especially because we had tried with Chace to see if we could make it work," he shares.
"And obviously, I think having Eleanor [Margaret Colin], Dorota [Zuzanna Szadkowski], and Cyrus [Wallace Shawn] appear in the show; it would be a natural extension to have Blair come back. But it was always gonna be up to those actors' interests and their availabilities," Safran continues. "The process we had begun was looking into Chace just because, as you saw this year, there was a lot of conversation about The Spectator and about sort of using The Spectator to help Obie's [Eli Brown] storyline."
And while Michelle Trachtenberg did return this season — and offered an update about Dan (Penn Badgley) and Serena (Blake Lively) — the showrunner would have liked to have her back. "We really wanted to have Georgina and Milo have scenes together, but Azhy [Robertson], who plays Milo, is one of the leads of Invasion, and it shoots in South Africa, so we couldn't get him," he explains. "You just heard his voice, but we wanted to show them together."
Unfortunately, this seems to be it, so at least for now, XOXO.
Gossip Girl, Streaming Now, HBO Max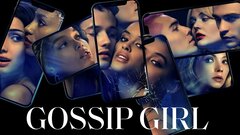 Powered by