'Hunters' Creator Explains Jonah's Open Season 2 Ending
[Warning: The below contains MAJOR spoilers for Hunters Season 2 Episodes 1-8.]
Hunters' second season has finally answered the question of what would happen if Hitler survived World War II, and despite delivering justice by infiltrating his secret compound and delivering him to authorities for a trial, Jonah (Logan Lerman) and his team of Nazi hunters left the series on a bit of an open page.
While Hitler was tried, a fake-out medical event almost helped him escape imprisonment until the Hunters stepped in. Now, with the big man behind bars, has the team's plight come to an end? It's a conundrum Jonah is faced with after Harriet (Kate Mulvany) shares information about his grandmother's killer. She's learned through records that Ruth (Jeannie Berlin) had become aware of Meyer's (Al Pacino) true identity as a Nazi in hiding, Wilhelm "The Wolf" Zuchs.
The reveal is confirmed in a parallel storyline flashing back to the days leading up to Ruth's death, which was depicted in Season 1. The reveal somewhat validates Jonah's Season 1 decision to murder Meyer, but Harriet's delivery of information also comes with a warning. She tells him that evil never takes a break.
As the show reaches its final moments and Jonah's enjoying his honeymoon with his new wife Clara (Emily Rudd), he seems to be scoping out a new target. Does this mean he'll keep on hunting after vowing to stop following Hitler's retrieval? "I would point viewers toward the line that Harriet says to him, 'evil doesn't retire, so why should we, how can we?'" creator and showrunner David Weil tells TV Insider.
Fans saw Jonah go through quite a lot in Season 2 as he connected with his late grandmother's sister, Chava (Jennifer Jason Leigh). By crossing paths with her, Weil says, "I wanted to find some connective tissue, some long lost family to help center Jonah back to the person that he is." Weil also points out that it was important for him to reconnect Jonah "with his birthright and his legacy. The character of Chava does that in spades."
For Jonah, Weil says, "I think it's really a question of, must I sacrifice my own soul to make the world a better place? And I think him being this righteous individual that we've tried to create, ultimately choosing justice over revenge… I don't think this life is over for Jonah," Weil admits. In other words, the hunter is still on the prowl.
What did you think of Jonah's open-ended conclusion? Let us know in the comments section, below, and catch Hunters on Prime Video.
Hunters, Streaming now, Prime Video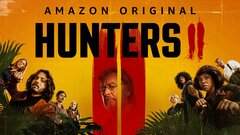 Powered by