'Hunters' Star Logan Lerman on What's Different About Jonah in Season 2
It's been some time since viewers last joined Hunters, the series about a group of vigilantes on a mission to make Nazis in hiding pay for their crimes. Now the wait for Season 2 is nearly over as Jonah (Logan Lerman) once again leads a ragtag team on their biggest job to date: finding Hitler.
As viewers who tuned into Season 1 will recall, that was the major cliffhanger ending revealing that the man in charge of the Nazi party (played by Udo Kier) was in fact still very much alive in the '70s and living on a private compound with Eva "The Colonel" Braun (Lena Olin). But this reveal wasn't exactly made to Jonah nor most of the Hunters team as it was Joe (Louis Ozawa) who was taken into captivity by The Colonel and her people.
Instead, Season 2 picks up quite a bit later down the timeline as Lerman says, "A few years have passed in the story from where we're picking up, and Jonah is just a very different character than he was in Season 1." Jonah got involved with the Nazi hunters following the murder of his grandmother Ruth (Jeannie Berlin) in Season 1, and that new lifestyle has certainly had an impact.
"He's really evolved. He's much more complex, much more hardened, and seasoned at being a Nazi hunter," Lerman continues. "I think he's also just still processing a lot of the trauma from years ago and things that he's experienced," the actor adds. "[Jonah]'s a man on a mission and he's been tasked with carrying out a very difficult mission and he needs his friends to get it [done]."
That may be a little more difficult than it sounds though because in the years since viewers last saw the team, there's been a bit of a fracture. "They've all split up," Lerman shares. "There was an incident that will reveal itself in the season that made the hunter's breakup," he clarifies, adding, "it is part of the challenge for Jonah at the beginning of the season is getting the group back together."
Getting to that point means reaching out to Millie Morris (Jerrika Hinton), the investigator who had been assigned to Ruth's cast and who is now legally hunting Nazis. "He just needs to reach out to her," Lerman says of Jonah's motivation. "He needs to verify information, he needs Millie on board and he knows that he can convince her, or at least he thinks he can."
But it isn't the characters viewers are familiar with that make as big a splash as Jennifer Jason Leigh's Chava. Mysteriously introduced, she has motivations of her own regarding the Nazis and Hitler and will team up with Jonah and the others for the mission. "Jonah's met his match with Chava," Lerman reveals. "She is making it a bit difficult for him to carry out this task that the whole season really centers on."
While she may give Jonah a tough time, Lerman can't speak highly enough about his costar Leigh. "She's brilliant and perfect in this role and it's, it was just so much fun to see her create this character and to play opposite her," Lerman gushes. See what trouble they drum up when Hunters finally returns.
Hunters, Season 2 Premiere, Friday, January 13, Prime Video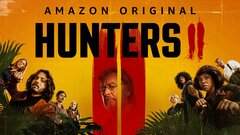 Powered by