'Severance' Creator Talks Britt Lower Breaking Out as Helly & New Actors in Season 2
Severance didn't walk away with any Golden Globes at the ceremony earlier this week but creator and executive producer Dan Erickson says he sure felt like a winner having grown up in Olympia, Washington, a self-proclaimed awards show prognosticator.
"I always loved trying to figure who was going to win which award," Erickson told TV Insider on the red carpet before the ceremony. "People say it shouldn't be a competition. Everyone who has ever made anything wins, but it's also fun for former kids like me who were 'nerds' about the industry [to be here]. It's fun."
Erickson admits to not being sure whether or not Severance would catch on — not because of its vision and content but because of the plethora of programming in today's TV and streaming landscape. "I had totally resigned myself to the fact that there's just too much TV and that people may not find the show," he says. But then, the show started to get traction. "I don't even know how that happens with all the great TV that comes out."
Erickson points out that the character of Helly, played by Britt Lower, was instrumental in the show's success. "People related to Helly, who was the way into the world we've created," he says. "She's the one who's experiencing the show along with us, realizing how messed up it is. That just comes down to Britt exemplifying exactly the spirit of revolution in the character. She's brought out things that we didn't even know were in there."
Severance Season 2 is currently in production but Erickson says he's not yet allowed to talk about what viewers might expect to see. He does say that he's excited and humbled to be working with new cast members including Gwendoline Christie, Bob Balaban, and Alia Shawkat. "There are a lot of amazing actors who are new to the show," he says.
Erickson shares that he's known about a Season 2 pickup since soon after Severance debuted. What are the creative pros and cons of having an entire season in the can before the first episode drops? "It's a good question," he responds. "I prefer doing it this way [finishing them all before the first one airs]. You can get too in your head if you start listening to every response. [As a writer,] you know something is going to pan out. We're just laying the seeds."
Apple TV+ helped bring awareness to Severance — along with its other slate of programming including Ted Lasso, The Morning Show, Schmigadoon, and other shows — by setting up an outdoor display last spring at The Grove, an outdoor mall that's one of Los Angeles's biggest tourist attractions. Each program had a station with a show-relevant theme.
Erickson said he visited the Severance station, which had a monitor and a vending machine, with a semi-awkward result. "I broke our display," he laments. "I was trying to be cute and pose with it, and I broke the platform that was holding the TV. It was very embarrassing."
Severance, Season 2, TBD, Apple TV+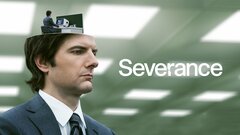 Powered by