'Sister Wives': Christine Brown's Daughter Wants Mom to Get a Spinoff With Janelle
The current season of TLC's reality hit Sister Wives has focused on the end of Kody Brown's polygamous marriages with Christine Brown, Meri Brown, and Janelle Brown. He is still married to Robyn Brown, and since there probably isn't a lot of interest in a series called Sister Wife, Christine Brown's daughter Gwendlyn Brown has an idea for a spinoff series.
According to People, Gwendlyn let her feelings be known in a YouTube video, saying, "I think we should have a spinoff series where my mom and Janelle get together… Tell me you don't love that idea. Sister Wives. It should be called Sister WIVES — I'm a genius."
The article continues:
"Throughout the video, Gwendlyn also praised her mom's decision to end her 25-year marriage with Kody. At one point, Gwendlyn joked, 'Four Christmases,' thinking of her father and his additional three wives. 'I'm starting to see the plus side of divorce.'"
TV Insider previously covered the Sister Wives one on one special where Christine spoke about the marriages ending, with "I think a part of them would always be a little bit sad that this didn't work and that the big family didn't work. And I think that there'd be a little bit of a mourning and a little bit of a loss there still, because it's a dream, right? It's giving up on a dream, and it's not a dream that they wanted to give up on, necessarily."
Christine isn't currently starring in any new reality show spinoffs, but she does have a virtual cooking series through TLC called Cooking with Just Christine. The episodes air on Christine's Instagram and TLC's website.
Sister Wives, Sundays, 10/9c, TLC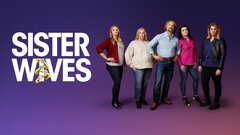 Powered by