'Rick and Morty' Co-Creator Justin Roiland Charged With Felony Domestic Violence
Justin Roiland, the co-creator of Adult Swim's fan-favorite animated series Rick and Morty, appeared in court Thursday, January 12 for a pre-trial hearing after being charged with felony domestic violence. The charges are in connection with a 2020 incident, according to a criminal complaint filed by the Orange County District Attorney, to which Roiland pleaded not guilty.
NBC News obtained the criminal complaint in the case, which charges Roiland, 42, with one felony count of domestic battery with corporal injury and one felony count of false imprisonment by menace, violence, fraud, and/or deceit. NBC News is the first to report publicly on the case.
This is not the first time the series has had one of its creators engaging in alleged disturbing/criminal behavior, because in 2018 Roiland's co-creator, Dan Harmon, came under fire for a supposed TV pilot he created in which he travels back in time to sexually assault serial killers when they're children in an attempt to thwart future crimes. In the video, he was reportedly seen "simulating rape" on baby dolls. Harmon subsequently released a statement about the video, apologizing for its content and the offense it has caused.
Rick and Morty is a billion-dollar media and merchandising franchise and is one of the most popular adult television comedies, and is currently heading toward its seventh season.
According to People, there is a plea offer available to Roiland in the felony domestic violence case, but there were no details revealed. The brief hearing concluded a moment later with an agreement to convene again on April 27. Roiland was ordered to attend the hearing.
In a statement to TV Insider, Roiland's attorney T. Edward Welbourn said, "It is hard to overstate how inaccurate the recent media coverage of this situation has been. To be clear, not only is Justin innocent but we also have every expectation that this matter is on course to be dismissed once the District Attorney's office has completed its methodical review of the evidence. We look forward to clearing Justin's name and helping him move forward as swiftly as possible."
Rick and Morty, Adult Swim, Seasons 1-5, Streaming, Hulu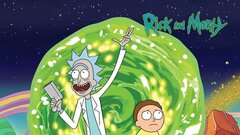 Powered by