Jeremy Renner Speaks Out, Shares First Photo Since Snow Plow Accident
Jeremy Renner has been in the hospital since Sunday when he was involved in a serious snow plow accident that initially left him in critical condition. Fans have been worried about the Marvel star, so it was welcome news when he posted to Instagram on Tuesday, thanking fans for their unwavering support.
Renner wrote, "Thank you all for your kind words. 🙏. Im too messed up now to type. But I send love to you all," alongside a picture of him in his hospital bed, looking exactly like someone who was run over by a snow plow.
View this post on Instagram
Following Renner's post, the Washoe County Sheriff's Office held a press conference about their investigation into the accident.
"After successfully towing his personal vehicle from its stuck location, Mr. Renner got out of his PistenBully to speak with his family member," noted Sheriff Darin Balaam. "At this point, it is observed that the PistenBully started to roll. In an effort to stop the rolling PistenBully, Mr. Renner attempts to get back into the driver seat of the PistenBully. Based on our investigation, it's at this point that Mr. Renner is run over by the PistenBully."
While the investigation is ongoing, the sheriff noted they do not suspect foul play. "We believe it was a tragic accident," Balaam said.
The actor has a new season of Mayor of Kingstown on the horizon, but promotional duties for the show have been canceled since news of the accident made headlines. It is still unknown if the series will have its January 15 release date pushed back in light of this.
Renner also has a reality TV series, Rennervations, about his work reimagining purpose-built vehicles to meet the needs of communities. It will debut on Disney+ later in 2023.
Mayor of Kingstown, Season 2, Premieres, Sunday, January 15, 2023, Paramount+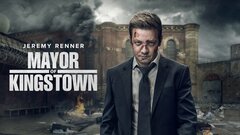 Powered by