'Wolf Pack' Boss Promises Sarah Michelle Gellar 'Kicking Ass All Over the Place'
TV's most iconic vampire slayer and a new whirl on werewolves? Howl, yes! But though this scare­-fest is from Teen Wolf creator Jeff Davis, Paramount+'s Wolf Pack is not a spinoff.
"I would call this a psychological thriller," Davis says. With action, no surprise!
The series is headlined by genre queen Sarah Michelle Gellar of Buffy the Vampire Slayer as Los Angeles Fire Department investigator Kristin Ramsey, who is hot to catch an arsonist behind a rash of local wildfires. In the pilot, after flames trap a school bus in the woods with teens Blake (Bella Shepard), Everett (Armani Jackson), and their classmates aboard, the kids are attacked by a fast, furry, and ferocious something hiding amid the burning trees.
With this, Ramsey's case takes a new twist that leads her to the firestarter — but not before riding a collision course with ranger Garrett Briggs (Rodrigo Santoro of Westworld) and encountering a shocking secret. With such mystery in store, it's a good thing Gellar is game to battle the otherworldly again.
"She has a great love for her legacy," Davis raves, hinting at fight sequences in his fellow executive producer's future. "She should be running and jumping and kicking ass all over the place. She's good at it."
That, she is. While Gellar's no stranger to supernatural shows, she told TV Insider at New York Comic Con 2022 why she chose this story as her return to the genre.
"To be in a world that's completely new that we get to create from scratch, you don't see that very often," she said, adding, "To take the issues that we are really dealing with today, with the anxiety, with not having your pack, feeling really isolated and using that to tell the story, I think is really beautiful."
Wolf Pack premieres the same day as Teen Wolf: The Movie on Paramount+. The series also stars Chloe Rose Robinson and Tyler Lawrence Gray.
Wolf Pack, Series Premiere, Thursday, January 26, Paramount+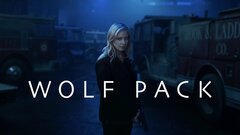 Powered by