'Perry Mason' Announces Long-Awaited Season 2 Return — Watch First Teaser (VIDEO)
"There's power in the truth." HBO has shared the first teaser for Perry Mason Season 2, as well as the official premiere date for the lauded crime drama's highly anticipated new episodes.
Perry Mason Season 2 premieres Monday, March 6, 2023 on HBO at 9/8c, bringing Matthew Rhys back as the eponymous Los Angeles detective turned defense attorney. HBO said in October that the season would debut in February 2023. The network's December 7 announcement reiterated that Season 2 will pick up months after the events of Perry Mason Season 1.
In Season 2, months after the Dodson case has come to an end, the scion of a powerful oil family is brutally murdered. When the DA goes to the city's Hoovervilles to pinpoint the most obvious of suspects, Perry (Rhys), Della (Juliet Rylance), and Paul (Chris Chalk) find themselves at the center of a case that will uncover far reaching conspiracies and force them to reckon with what it truly means to be guilty.
In the Perry Mason teaser above, Rhys' detective grapples with having to take on another murder trial. His response to the warning: a tense "maybe I like to stack the odds." Film noir-style music plays throughout the teaser as Perry, Della, and Paul fight for justice, with Della declaring "guilty or not, everyone deserves a defense." Someone else disagrees.
"There's only the illusion of justice," Justin Kirk's Hamilton Berger is heard saying. "The fantasy that truth always prevails." As Perry wryly replies, "Who the f**k wants to be any part of that?"
As previously announced, Tatiana Maslany will not be returning in the new installment. John Lithgow also will not be returning. But joining Rhys, Rylance, and Chalk in the Perry Mason Season 2 cast are Shea Whigham, Eric Lange, Justin Kirk, Diarra Kilpatrick, Katherine Waterston, Hope Davis, Fabrizio Guido, Peter Mendoza, Mark O'Brien, Paul Raci, Jen Tullock, Jon Chaffin, Onahoua Rodriguez, Jee Young Han, Sean Astin, Tommy Dewey, and Wallace Langham.
Kirk and Lange have been promoted to series regulars. Astin, Raci, Dewey, and Tullock are new to the period drama.
Perry Mason is executive produced by Rhys, Jack Amiel, Michael Begler, Amanda Burrell, Robert Downey Jr., Susan Downey, Joe Horacek, and Tim Van Patten. Co-executive producer is Regina Heyman. Perry Mason is based on the book characters created by Erle Stanley Gardner.
Perry Mason, Season 2 Premiere, Monday, March 6, 9/8c, HBO and HBO Max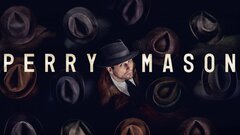 Powered by