'The Blacklist' Shocker! The FBI Mole Is…
The Blacklist returned with an unexpected twist: It was the FBI's Special Task Force's own agent Samar Navabi who was sending info to a foreign power! She was helping her former employer Mossad plan and execute an attack on a notorious Islamist terrorist who had gained access to a weapon that would have penetrated Israel's missile defense system known as the "Iron Dome."
RELATED: The FBI Task Force Is in Turmoil When The Blacklist Returns
TV Insider asked actress Mozhan Marno, who plays Navabi, all about tonight's surprising—and revealing—episode.
Samar really had a double life! She's was still working with Mossad while an FBI agent, going so far as to lead this foreign force in carrying out an attack against terrorists while on U.S. soil. What was going on?
You can look at it like she's betraying her friends at the FBI—or you can look at it like she's aiding and abetting the capture of a terrorist. If you see it as an end game, then she's doing exactly what she's supposed to be doing. No, she's not following protocol. [Laughs] So in that way it can be seen as a betrayal. I definitely think that Cooper (Harry Lennix) and Aram (Amir Arison) think that.
She didn't tell anyone at the FBI what she was doing with Mossad, did she?
She sure didn't. I always feel like Samar does her own thing and then deals with the consequences.
She risked her life, of course, leading her Israeli team into a terrorist den. She survived, but it seems her FBI career might not.
Yeah. I don't think she believed that her professional life is at risk until she's reprimanded by Cooper and told she could lose her job. To her, she has a target and a mission and she executes it. It's afterwards that she deals with the repercussions.
RELATED: Samar Makes Her Decision (VIDEO)
It seems clear she has dual loyalties to her old home Israel and her new, the United States. Did she think she was saving both her countries with her actions?
That's exactly why it's not black and white. The result of her mission was exactly what the FBI was after as well. In that way, she was doing her job. It's just that the path at which she gets to that result that is not to the FBI's standards. Not to Cooper's standards.
Why did she trust the Mossad more than the FBI in taking out the terrorists and their weapon?
Maybe their methods was what she trusted to get this particular mission accomplished. And they did, you know.
Cooper wants to know where her loyalty lies. Will she have to ditch her relationship with the Mossad to stay at the FBI?
We don't really resolve that. That's to be determined. [Laughs] There is no official break with the Mossad. I think she's still on loan from them. It's a gray area. Do her dual allegiances conflict with one another? Her existence on the task force is by nature ambiguous. She'll have to deal with that in the future.
Samar told Ezra (Oded Fehr), the hunky Mossad operative she's been pining after for years, that she was no longer available because she was in love with someone else. Aram, we assume?

Yes, it was Aram.
RELATED: From the Big Screen to TV: Hollywood's Biggest Stars Make the Leap to Streaming
Fans know that he's been in love with Samar, but now he doesn't trust her. Can you understand his point of view? Especially after his latest girlfriend used him so she could infiltrate the FBI's computer system, which nearly ruined his life.

You can't say absolutely that she's not trustworthy, but to Aram, who's so raw from that intense betrayal, it crosses his personal line.
Where does that leave that just beginning-to-bud relationship? Will Samar work on regaining his trust?
That relationship doesn't seem possible right now. But making Aram feel whatever he doesn't want to think or feel is not the way she does things. I do think, however, she can't force herself out of the feelings that she has for him. So I think it will unfold somehow.
Trust seems to be an issue with everyone at the FBI in recent months.
It's a very big theme this year.
Speaking of trust issues, more than anyone else in the unit, Samar has refused to accept Liz Keene (Megan Boone), who faked her own death to get her baby away from Reddington (James Spader). Thanks to Red's machinations, Liz just regained her FBI badge, so will Samar finally forgive her?
That's still being explored; the writers are still playing with that. Personally, I don't think Samar will ever fully trust Liz again.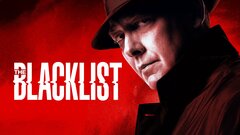 Powered by