The FBI Task Force Is in Turmoil When 'The Blacklist' Returns
Terror, love and a mole are all central to this week's The Blacklist's episode titled "Lipet's Seafood Company." There are also plenty of fish.
We asked Mozhan Marno, who plays FBI agent Samar Navabi, about the episode—one of the season's most intriguing and surprising.
On the scary, bomb-throwing dude
"Our blacklister is a well-known Middle Eastern terrorist and the task force as well as other entities are converging around him," Marno says.
On matters of the heart
Poor Special Agent Aram Mojtabai (Amir Arison) is not only emotionally wrecked by the discovery that his former girlfriend Elise turned out to be a mole who hacked into the FBI computer systems, but he's being asked to testify to prove that he wasn't her accomplice. Now that he's single again, fans want to know if there is a chance for a Samar and Aram coupling?
"There will a definite escalation of the relationship," says Marno. "Samar will come to some pretty important realizations. I think there will be a resolution to certain relationships that may have been hanging in the air."
RELATED: Golden Globes 2016 Predictions
On the possibility of another mole
Elise isn't the only mole around, by the way. "There's some kind of surprise mole on the task force," Marno reveals. "We'll definitely have an answer about that by the end of the episode."
As for those gilled creatures, they come in at the top of the hour, when a fish factory is uncovered as a front for the terrorist's gang.
Here's an exclusive video of an intense scene between Aram and Samar.
The Blacklist, Thursdays, 10/9c, NBC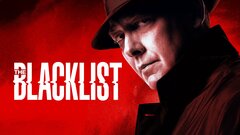 Powered by