'The Conners' Introduces New Relative, Plus Gets Super-Sized Season 5
ABC is going all-in on The Conners, as the Roseanne spinoff series has been given a 22-episode order for its current fifth season.
According to Deadline, the news was shared during the October 7 taping of the popular sitcom. The 22 episodes make this the biggest season of The Conners ever — the first season, which came after the Roseanne revival crashed and burned, consisted of just 11 episodes, while Seasons 2 -4 included 20 episodes each.
The show also added a new character in its latest episode. It was revealed that Louise and Neville's estranged brother Aaron died of a heart attack, leaving behind a 17-year-old son named Caleb, played by Shameless' Ethan Cutkosky, who reunited with fellow Shameless alum Emma Kenney (Harris Conner-Healy).
The Conners premiered on October 16, 2018, following the cancellation of Roseanne in May of that year due to controversial comments made by Roseanne Barr on Twitter. It was created by Matt Williams and developed by Bruce Helford, Bruce Rasmussen, and Dave Caplan. The show revolves around the Conner family, who are forced to face the daily struggles of life after the death of the show's original lead character Roseanne.
John Goodman reprises his role as Roseanne's husband, Dan Conner, and stars alongside Laurie Metcalf (Jackie Harris), Sara Gilbert (Darlene Conner), Ames McNamara (Mark Conner-Healy), Jayden Rey (Mary Conner), and Lecy Goranson (Becky Conner-Healy).
The Conners is the latest ABC comedy to be given a full-season broadcast order. Earlier this year, the network expanded the sophomore season of the Emmy-winning sitcom Abbott Elementary to 22 episodes, while The Goldbergs' ninth season was also extended with additional episodes to reach the 22-episode mark.
Ahead of the fifth season premiere on September 21, 2022, the show's executive producer Bruce Helford teased "a major revelation about the history of the family" this season. He also promised "a big Halloween show in the famous Conner style."
The Conners, Season 5, Wednesdays, 8/7c, ABC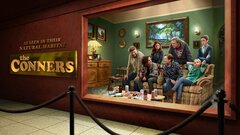 Powered by