'Batman: The Audio Adventures' Team Talks Taking on Gotham's Iconic Characters for Season 2 (VIDEO)
Batman: The Audio Adventures podcast is back with Season 2 and voice star Bobby Moynihan and writer, director, and producer Dennis McNicholas dropped by the TV Insider and TV Guide Magazine studio at New York Comic Con to discuss all things Gotham.
The Webby Award-winning original scripted podcast is set in a period of time when Batman (voiced by Jeffrey Wright) decides to put his years of crime fighting behind him and plans to become an official member of the Gotham City Police Department. Among the foes at play in the series is Moynihan's version of the Penguin.
Sitting down with Andrea Towers, Moynihan admits to the pressure of taking on such an iconic role. "It definitely is. I feel like — and I mean this, I may have said this before or in other interviews — if somebody asked me what I was most proud of in anything I've ever done, I would say it's this."
"I've never been so nervous on live TV for 10 years," the performer adds. "I've never been so nervous in that first recording session that we did, and we did it all in one day." Moynihan goes on to say, "I went home that day like 'this is what I want to do the rest of my life is play this Penguin.'"
According to McNicholas, Moynihan was born for the role. "It was amazing," he muses. "He came in for Season 1 — it was a huge ask, it was too much to ask — and he was just absolutely born for it. And, you know, the same thing, I told you," McNicholas says, looking at Moynihan, "I was terrified to take this project on, and when you and [Chris] Parnell said you would do it, I was like, 'okay, I can at least [do it].'"
Among some of the other things Moynihan and McNicholas are teasing in the interview above are shorter episodes and a more focused Season 2 story, something McNicholas describes as "leaner" and "meaner." As for Moynihan, he admits "it was hard to be the villain," when he began working on Season 1, but that changed when approaching Season 2.
See the full interview above, and catch episodes of Batman: The Audio Adventures on HBO Max.
Batman: The Audio Adventures, Streaming now, HBO Max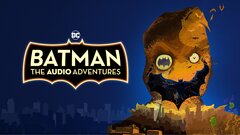 Powered by