Grimm Returns With 'Death and Destruction' in Sixth and Final Season
NBC's hit monster mash Grimm begins its last season with the beloved Scooby Gang—led by David Giuntoli's Det. Nick Burkhardt—in an all-out war against insidious police captain Sean Renard (Sasha Roiz). Giuntoli previews the final 13 episodes and lets us down easy.
Does the audience really want a happy ending on such a deliciously grisly crime show? No. That's why we're called Grimm! There will be a lot of death and destruction before things wrap up but also some laughs—especially when Nick tries to stop Renard from assuming office as mayor of Portland—and a huge shift from where we started. After years of fighting the Wesen uprising, not to mention the creature of the week, our show comes down to two wild cards: an 8-year-old girl [the witchlet Diana, played by Hannah R. Lloyd] and a powerful magic stick from the Crusades. None of us could have seen that coming.
RELATED: David Giuntoli Makes His Directorial Debut
Nor could anyone have predicted just how soapy this show would get. This season, Nick's back-from-the-dead ex Juliette (Bitsie Tulloch) will get the feels for him again. How will he handle that now that he's in love with Adalind (Claire Coffee)? Nick's torn. Really torn. He still has a thing for Juliette. He can't stop loving that woman! So we'll have some fun with Nick carrying a secret flame. But the problem is, he has a kid with Adalind, and a kid has to come first. This show has been crazy in the romance department. It's amazing how many of the characters have slept with each other. We're like the bonobos of acting companies.
RELATED: Grimm: Season 6 Opens With Nick and Renard Face to Face (VIDEO)
How's morale on the set as the clock ticks toward the final hour? One of the gifts of being given a season that's prepackaged and labeled as our last is that you get your grieving out gradually. There's no shock, like with cancellation. We get to end the show the way we want to end it and it'll be big—only big in a different way than you're expecting. But I can't lie. [Laughs] It sucks! We're all really sad. But the good thing, the comforting thing, for the cast and the crew and the fans, is that these characters will live on in our hearts and our imaginations. They will always be out there somewhere.
Grimm, Returns Friday, Jan. 6, 8/7c, NBC @NBCGrimm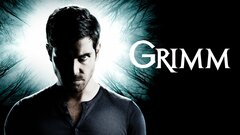 Grimm
where to stream
Powered by