'Grimm' Renewed for a Sixth Season
Grimm will be back to haunt your sleep. NBC just announced that the show, which airs on Friday nights, will return for its sixth season.
"We absolutely love what our producers and cast have accomplished over the past five seasons," said NBC Entertainment President Jennifer Salke. "They have created a whole new world of creatures and have a truly devoted fan base. We can't wait to see what comes next."
RELATED: Bree Turner Goes 'Skin Deep' in Grimm's Plastic Surgery Nightmare (VIDEO)
Grimm's ratings are fairly strong this season, averaging a 1.7 rating with adults 18-49 and 6.4 million viewers overall in the "live plus seven day" results from Nielsen. When the "live plus same day" results are considered, Grimm's ratings drop significantly. This means that a large portion of the show's viewers—almost half the total audience—do not watch it live, and are instead recording it to view it later on.
RELATED: Grimm's 100th Episode: See David Giuntoli's Personal Photos
Still, Grimm's ratings give NBC a stronghold on Friday night, a night notorious for its inability to hold viewers. Shows are usually moved to there when they are nearing the end of their runs, but Grimm has put up good enough numbers to give the network a consistent presence on Fridays.
Grimm's Season 5 finale airs Friday, May 20 at 9/8c on NBC.
Grimm, Fridays, 9/8c, NBC.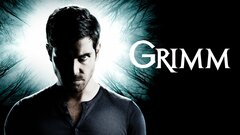 Grimm
where to stream
Powered by