'Scream Queens's Lea Michele Talks the Green Meanies and That Make Out Scene with John Stamos
Last week's episode of Scream Queens was full of bombshells. Not only did we get to see the three murderers, known as the Green Meanies, work together to attack the employees and patients of C.U.R.E. Institute Hospital, but one of them was killed off.
Hester (Lea Michele) was in the right place at the right time when she happened upon the Green Meanies chatting after a failed attempt of killing the leader of The Chanels, Chanel (Emma Roberts). Now she is the new ringleader of the remaining Green Meanies, and there's no doubt this seasoned killer will stir up some major drama in this week's season finale.
TV Insider caught up with Michele to discuss the evolution of Hester, the possibility of a musical episode and more.
For the majority of the first season Hester was very quirky because she was undercover, but this season she's clearly her unstable self. How has it been playing her throughout the series, especially now that she's unhinged?
It's been great. I feel like since the start of Scream Queens I've gotten to play six different characters and six different versions of Hester: entering the sorority with the neck brace; becoming a Chanel; and then finding out that she's the killer; and then now this season in the mental institution; and then becoming sort of a nurse in the hospital. As an actor it's really great to play all different levels and versions of this type of crazy and I think it's so funny that Brad [Falchuk] and Ryan [Murphy] and Ian [Brennan] wrote this character for me and saw some part of me that could play Hester. [Laughs] But it was an amazing opportunity coming right off of Glee to get to play something so different than what I'd been doing for six seasons on TV. I really just enjoyed playing her and just playing someone absolutely batshit nuts.
She's such a contrast from Rachel on Glee. Rachel was always so put together and Hester is obviously not. It's interesting to see you play such a different character.
[Laughs] Well, I mean, yeah. She's also a murderer.
Yes. That is definitely another major difference. What do you think are the benefits of the hospital setting compared to the college setting of Season 1?
I know Ryan loves doing different patients with different ailments and it's something that he did on Nip/Tuck for many years and he's bringing that same structure to this season with each episode starting with a new patient coming in with some sort of fictional, but yet non-fictional sickness that the doctors have to most likely unsuccessfully cure them of.
Now that we know who the Green Meanies are, Hester's kind of made herself the organizer of the group. Do you think that's because she wants the Chanels to die or because she just wants to be involved in any murder that she can be involved in?
I think it's maybe a little bit of both. At the end of the day, I think that Hester does love Chanel, even if she doesn't want to admit it. But it's sort of just ingrained into who she is and she vowed to never kill again and yet now she's helping these three killers murder the Chanels. So she's maybe on the fence, but when it comes to helping the killers, she's definitely right there on the forefront.
RELATED: 10 Best Shows of 2016
Will the dynamic of the Green Meanies change now that Wes (Oliver Hudson) has been killed off?
So now we have just two (Meanies) left and I guess you'll just have to see what happens. They definitely still try and do what they can and we have to try and stop them. Or I'm not trying to stop them, but Hester starts to come up with her own plan separate from the two killers, so I really loved my storyline in the finale. I loved where her storyline gets to go to and how the season ends.
In the last episode, Hester tried to seduce Brock into becoming a murderer. How was filming that scene with John Stamos?
I absolutely love John Stamos. He's such a great actor to work with. He's so professional. He's so wildly handsome. He's so funny. He has done TV. He's been doing this for such a long time for so many years and he's incredible at what he does. To have the opportunity to work with him and play opposite with him this season has been so great.
Which murder this season surprised you the most?
I was so sad when Chad Radwell died; he was the best. That one was hard for me to take. I'm still Team Chad.
This show has such just one-liners. Do you have a personal favorite? Maybe of Hester's?
Definitely "Are you man enough to attack my crack?" That was from Season 1.
So a lot of the cast is musically talented. Would you be interested in doing a musical episode?
Definitely not. [Laughs] I think it's really good for me that it doesn't involve any singing. I did that for long enough on Glee and I think that it's nice for people to get to see me on television, but not singing per se. Everyone else could sing. Maybe it would be funny if Hester had a really terrible voice.
A lot was revealed in this week's episode. What can we expect to be revealed in the season finale?
Well, I guess the big thing is to see who's gonna live and who's gonna die and are we gonna stop the Green Meanies from killing everyone.
If the show returns for a third season, where would you picture Hester? Do you want her to calm down a bit or do you want her to stay as amped up as she is and continue with her murdering antics?
[Laughs] Definitely amped up, but I really love getting to work with Emma, so I think that they should join forces. I just really love working with her. I think she's the absolute best and she's one of my best friends, so as long as I get to work with her I'm happy.
Scream Queens, Season Finale, Tuesday, Dec. 20, 9/8c, Fox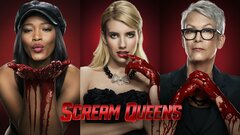 Powered by