'24: Legacy', 'Prison Break', 'Twin Peaks': How Networks Stack the Reboot Odds in Their Favor
It was a good year for familiar stories. Film adaptations like HBO's Westworld and Fox's Lethal Weapon grabbed viewers' attention, and the return of fan-favorite TV series, including Fox's The X-Files, CBS's MacGyver and Netflix's Gilmore Girls, created the kind of buzz networks crave. While not all reboots meet with big ratings (Fox's inspired yet low-rated take on The Exorcist still faces an uncertain future), networks will continue to take known franchises and remake them into what they hope will be tomorrow's big hits. With more coming in 2017, we look at how these returns are being assembled to (hopefully) spell success.
Hit the Refresh Button
Fox's 24: Legacy is missing one key ingredient—Jack Bauer. "Because of all the different signatures of the real-time format, the twists and turns and the unexpected character moves, 24 felt like a format that could very easily live on even past Jack Bauer," says Terence Carter, Fox's executive vice president of drama development. "This was a great landscape to play out a new adventure with a new lead."
That new lead is Eric Carter (Corey Hawkins), a decorated military hero, now living in hiding. In the February 5 premiere (following the Super Bowl), he is "thrown into a surprising set of circumstances that connects him with the world that we know and love—CTU," Carter says. And while most of the original 24 characters are not part of the new show, former agent-gone-villain Tony Almeida (Carlos Bernard) will pop up, and others will be mentioned.
Or Keep it Familiar
As Gilmore Girls proved, nine years after its original run ended, audiences are also happy to see those faces they've missed. When Fox's Prison Break returns this spring and Showtime's Twin Peaks debuts later in 2017, the bulk of their original casts will be in place. But that alone does not guarantee success. While familiarity may help a show stand out in a crowded marketplace, Carter warns, "it also provides some challenges because it's been many years and there's a lot of resetting that you have to do."
Turn Back the Clock—Sort of
24: Legacy isn't the only new series playing with time. NBC's Taken, based on the trio of Liam Neeson films and premiering February 27, is a prequel to the early days of the Bryan Mills character, even though the drama is set in present day. "We sort of fudged time, but nevertheless, it's Bryan as a young man and how he learns his particular skills," says executive producer Alexander Cary of Neeson's tough-as-nails character, now played by Clive Standen. "It's about the defining years of this character, before he becomes the man that you see in the films, and how he got into this world."
RELATED: 24: Legacy Key Art Touts a New Hero for a New Day
Cary, who has said no to working on reboots in the past, saw a way to put an episodic spin on the action-packed franchise. "Taken gave me an opportunity to do what television does best, which is spend time with characters and grow them in a slightly more organic way. But it's only an advantage if you can deliver the action and build up to it in a way that the film franchise fans will be excited by."
Maintain the Foundation
Training Day executive producer Will Beall knew changes were inevitable when he began shaping the 2001 Denzel Washington and Ethan Hawke film for CBS (it premieres February 2). "If we're going to arc these characters over 100 episodes or so, we have to make adjustments," he says. The drama has different characters from the film but maintains the setup: A seasoned and morally ambiguous cop (Bill Paxton) takes on a trainee (Justin Cornwell) secretly tasked with spying on his new partner. Watch for both characters to wrestle with their principles, a key element from the movie that Beall (along with executive producer Antoine Fuqua, who directed the film) knew they needed to retain. "[When we were developing the show], I talked about how great it would be to have a series where you felt like the characters could go either way," Beall says.
Honor the Original
In 1975, CBS premiered Norman Lear's One Day at a Time, about a divorced woman raising her teenage daughters in Indianapolis. While rebooting the comedy for Netflix (it streams January 6), executive producers Gloria Calderon Kellett and Mike Royce kept the divorced woman (Justina Machado) and her kids (now a teen daughter and younger son) but made the Los Angeles–based family Cuban. And they knew one component was paramount. "We want to honor Norman Lear," says Royce. "We wanted to do a show that he could be proud of and could say fits into his canon."
They are following the model set by Lear, who is also an executive producer, to hit on topical issues. "We talk about veterans' issues, sexism and what it's like to be a single mom," says Royce. Kellett adds that having Rita Moreno in the cast as Machado's saucy mother also opens doors for multigenerational stories. "The conversations that could be had from this old-school immigrant woman, her first-generation American daughter and then her grandchildren seemed like a great area for storytelling."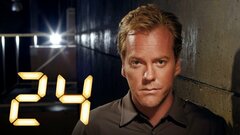 24
where to stream