'Westworld': Jeffrey Wright On His Dual Role in the Season Finale, Finding Out the Final Twist and More
Warning: Spoilers ahead for those who haven't seen the season finale of Westworld.
Sunday's Season 1 finale of Westworld gave fans exactly what they wanted, and then some. Fan theories—like the park's most popular visitor, the Man in Black (Ed Harris), being an older version of park guest William (Jimmi Simpson), and sentient host Dolores (Evan Rachel Wood) being the evil, killing machine Wyatt—were confirmed. We saw Head of Programming/Ford's host Bernard (Jeffrey Wright) return—with his memories intact—and how original Westworld co-creator Arnold (Wright) died in the park all those years ago. We even saw Dr. Robert Ford's (Anthony Hopkins) master plan and final moments. There were very few things this finale didn't deliver. We chatted with Wright about playing his dual roles as Bernard and Arnold, what surprised him the most about the finale and more.
Did you watch the finale live, or did you receive an advanced copy of it?
I did a little bit of both. I had seen it, but I also had some friends over so I cooked and hosted, pardon the pun [laughs], as they watched.
It was amazing to see your arc throughout the season, going from Bernard, this simple park employee, to a sentient host, and then also seeing you grow into playing Arnold, the co-creator of Westworld. What was it like capturing this journey?
Well, I loved the subversion that's written into Bernard, in that he is in the beginning, this seeming every-man, flying under the radar. As Lisa [Joy, executive producer] described him repeatedly early on, he's very "understated." His emergence out of that, that's a wonderful foil for an actor to play with. It's a lot of leverage to work with. At the beginning of the show, when we shot the pilot, I wasn't aware of the multiple levels to Bernard. As we went in to begin the season and circled back to production with Episode 2, Lisa filled me in. Also, she and Jonah [exec producer Jonathan Nolan] described that they had expectations for what I was going to be able to bring to the table and so they were inferring that they were going to be entrusting me with a fair amount of this story. That is just incredibly gratifying.
It's a lot of pressure too.
I don't look at it as pressure, I just look at it as an opportunity to work. For them, to recognize having looked at my work in the past, and shaped this character and this space for me to embody, it's just a rare gift. We all are totally in love with them.
We spoke to Jimmi Simpson a few weeks ago, and he told us that as he and Evan Rachel Wood were getting scripts along the way, they were making guesses about what the endgame was. What twists were you most surprised to see when you got to the finale?
Clearly, the final button [Dolores shooting Ford in the head]. When I read that finale script, I got to the end and the final scene was redacted. I'm reading this and I'm going, 'What, did they edit that scene out?' and just going, 'What the hell is going on here?' So, I send Evan a text, and I'm like, 'Evan, what's the deal?' and I thought that I knew, but then when it wasn't there, she filled me in and we were texting back and forth, and back and forth, and finally I just call her like, 'Hey, what the hell is going on?' and she drops the bomb and my head exploded. That was routine as we got deeper into the season on reading these scripts, there would just be a flurry of mind-blown texts circling around the cast.
RELATED: Westworld's Jimmi Simpson Talks William and Dolores' Big Moment, Fan Theories and More

One of my favorite scenes with Bernard in the finale is with Maeve (Thandie Newton), when he tried to tell her that her desire to escape is all part of a programmed storyline, which she refused to accept. It was so heartbreaking to watch, but it was also kind of nice to see Bernard dealing out the difficult information out rather than taking more difficult information in. Do you think in that scene he found himself becoming more sympathetic to his kind as a fellow host?
I think Bernard has always been sympathetic, but clearly now, is sympathetic in a deeper way. But what's interesting is as Ford describes, Bernard knows himself inside and out, and that for him is a singular space. As we go forward the question will become, 'What does he do with that knowledge?'
Are you returning for Season 2 definitely? Is there anything you can tease?
Yeah! There were some hints dropped along the way, but I'm not one to speak out of the Jonah Nolan-Lisa Joy school because I haven't yet earned my degree. They're always a few steps ahead of the class.
How was it working alongside Anthony Hopkins?
It was an absolute joy, both to work with him onscreen and to exchange with him off-screen. There are not a lot of Anthony Hopkins' out there. It was invigorating. He's just gives you so much in his performances, so it's just the fullness of character and thought and psychology just rushing at you. You can't ask for more than that. And also, as a craftsman, he's just wonderfully thoughtful and specific. I enjoyed blending with him and giving as much as I could back in return.
We never get to see Bernard confront Ford after he shoots himself, what do you think he would say if he were to face his maker again?
Actually, I'm not going to answer that, but there's space there.
What were the nuances you used to make Bernard different from Arnold and Arnold different from Bernard?
I just found that on the page, Arnold's words and Bernard's words resonated in different ways for me. Arnold entirely engages with Dolores leading up to the finale. That's a very specific relationship, and one that Bernard doesn't have. Bernard also has something of a paternal streak to him, his relationship for example with Elsie (Shannon Woodward) is in some ways a mentor relationship, but the intimacy that Arnold shares with Dolores and the specific ways in which he has fathered her just add a dimension to him that we don't see with Bernard. Even though Bernard is a warm and empathizing character, there's an even more heightened sense of that with Arnold. They're just heightened. His vulnerability is heightened, his sense of possibility and his sense of romance and wonder and loss, everything is just slightly more heightened with the archetype that is Arnold, as opposed to Bernard, because he's human.
And don't forget to check out Westworld's Facebook page for a chat with creators Jonathan Nolan and Lisa Joy, hosted by TV Guide Magazine's Marisa Roffman.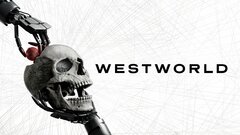 Powered by