'Lethal Weapon' Given Full Season Order By Fox
It's good news today for Fox's take on the Lethal Weapon franchise as the network picked up the action series for an additional five episodes, giving it a full season total of 18 episodes for the 2106-17 season.
The action series, based on the Mel Gibson-Danny Glover films, follows the buddy cop duo of loose cannon Martin Riggs (Crawford) and by-the-book Roger Murtaugh (Wayans) working to fight crime in contemporary Los Angeles. The series also stars Jordana Brewster, Keesha Sharpe, Kevin Rahm and Johnathan Hernandez.
RELATED: Damon Wayans and Clayne Crawford Talk Bringing Riggs and Murtaugh to TV
"Lethal Weapon delivers an explosive and wildly entertaining core relationship between two cops, with dynamic performances by Damon Wayans and Clayne Crawford, surrounded by cinematic action, endearing humor and true heart," David Madden, President, Entertainment, Fox Broadcasting Company, said in a press release. "Matt Miller, McG, Dan Lin and Jennifer Gwartz have done a tremendous job on this show, which has proven to be a self-starter and solid companion for Empire. We are thrilled to add these episodes to Lethal Weapon's first season."
Lethal Weapon, Wednesdays, 8/7c, Fox.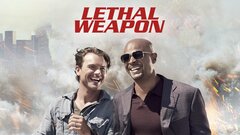 Powered by