'Hairspray Live!': On the Set of the TV Version of John Waters's Hit Musical
To paraphrase one of its catchiest tunes, you clearly can't stop the beat when it comes to Hairspray, the Baltimore-based story of plump, perky teenager Tracy Turnblad fulfilling her dream of being a featured dancer on her favorite TV program, The Corny Collins Show, during the height of the Civil Rights Movement. But on this October day at Universal Studios' backlot, someone else's dream is coming true: 20-year-old newcomer Maddie Baillio is rehearsing Tracy's vibrant opening number, "Good Morning, Baltimore" for NBC's upcoming live special, and judging by the approving nods around her, she is nailing it.
Based on film provocateur John Waters's sweet, change-of-pace 1988 film of the same name, Hairspray Live!—the network's fourth live TV adaptation in as many years, following The Sound of Music, Peter Pan and The Wiz—will be shepherded by veteran executive producers Neil Meron and Craig Zadan and director Kenny Leon (he helmed The Wiz Live! last year). Like Fox's Grease: Live in January, this production will utilize the outdoors and include a live audience. "It's organic to be outside [for this story]," says Leon. "It's liberating."
Baillio, found via an open call, is making her first-ever TV appearance—as a lead, no less—and is more than aware she has one shot to make this iconic role her own. The big 1960s hair and dresses are certainly helping. "When I sat down for makeup tests, they put the wig on me and I just immediately felt like Tracy."
RELATED: Ariana Grande Returns to Musical Television in Hairspray Live!
One familiar face for fans: Harvey Fierstein, who reprises his Tony-winning, gender-bending role as Tracy's timid but protective mother, Edna. He was asked to write the teleplay and admits pulling double duty as writer and performer had its own specific set of challenges. "I made decisions about how I portrayed Edna before, but this time I had a different daughter, a different husband, my physical world was altered," Fierstein says. "When Martin Short plays your husband [Wilbur], it's not quite like anybody else, and Maddie has a totally different spirit than Marissa Jaret Winokur did on Broadway." (Winokur, who appeared in the 2002 Broadway adaptation, and Ricki Lake, who starred in Waters's original film version, will guest in the December 7 broadcast.)
And since any good story has a villain you love to hate, Hairspray has a doozy in Velma Von Tussle, the mean momma of spoiled dance queen Amber (Dove Cameron) and sworn opposer of the Turnblads. But is Velma, played by Kristin Chenoweth, really so bad? "She's the misunderstood villain," Chenoweth laughs. "I just view her as someone who's stuck in her past. She's a stage mom!"
She's not the only A-lister producers snagged to join. Dancing With the Stars' Derek Hough high-steps into the role of the dreamy TV host Corny Collins, and he got his inspiration from someone near and dear. "My dad used to be a DJ back in college and—to this day—he'll tell the weather of the day in that newscaster voice." Also popping in: Jennifer Hudson, Ariana Grande, Rosie O'Donnell, Andrea Martin, Billy Eichner and Sean Hayes.
Between the jaw-dropping talent and the wide appeal of the varied projects, all of the live TV musicals have been sizable hits thus far (Sound of Music leads the pack with a record 18.6 million viewers). So it's no surprise NBC hasn't missed a beat in picking its next project: Bye Bye Birdie, starring Jennifer Lopez and adapted by Fierstein, to air in late 2017.
"I couldn't afford to go to New York when I was growing up," says Chenoweth, noting that the renewed enthusiasm for the live TV musical is wonderful for folks who cannot make it to shows on the Great White Way. She declares happily: "Praise this kind of thing!"
Hairspray Live!, airs Wednesday, December 7, 8/7c, NBC.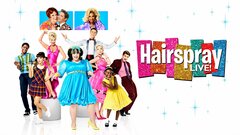 Powered by