Roush Review: A Return to 'Sanditon' Leaves Much to be Desired
It is a well-known fact that Jane Austen and PBS's Masterpiece go together like the proverbial tea and crumpets. Which is why it was such a shock for fans to be left hanging two years ago when the series version of Sanditon — based on Austen's final, unfinished novel — was canceled by its British producers before its first season even aired on PBS in the winter of 2020.
If the original unfinished manuscript left Austen fans wanting more, dismayed viewers were additionally vexed by the unhappy ending Sanditon's producers had contrived for its heroine, Charlotte Heywood (the disarming Rose Williams). She and everyone else were left heartbroken when her studly love interest Sidney Parker (Theo James) was forced to marry another to rescue his unlucky brother Tom (Kris Marshall) from financial ruin.
As fan outcry mounted over the truncated run, Masterpiece was able to strike a deal with BritBox UK for two additional seasons, a rare win for fans of prematurely canceled series. But in the long tradition of being careful what you wish for, Sanditon returns in a diminished state. The thrill of first love is gone — and so, alas, is much of the fun — as Season 2 opens with dashing Sidney permanently out of the picture. (James opted not to return.)
Charlotte has returned to the burgeoning seaside resort with her impressionable younger sister, Alison (Rosie Graham), who's much more eager to chase romance than her once-burned sibling. They're both in for a disappointingly derivative journey.
Alison becomes embroiled in a triangle ripping off Cyrano de Bergerac, in which callow young Army Captain Carter (Maxim Ays) woos her using the words and experience of the more worldly and poetic Scottish Capt. Fraser (Frank Blake) — yes, Outlander fans, Fraser — to impress her. Charlotte, meanwhile, juggles two underwhelming new men in her life: a stiff Army Colonel, Francis Lennox (Tom Weston-Jones), and the gloomy widower Alexander Colbourne (pallid Ben Lloyd-Hughes), for whom she goes to work as a governess to his tomboy daughter and willful orphaned niece. Her employer is something of a cross between Jane Eyre's tormented Mr. Rochester and The Sound of Music's Capt. Von Trapp. (He even keeps the estate's piano under lock and key lest the girls under his watch experience any inadvertent joy.)
See Also
Find out how you can watch new episodes of the period drama ahead of the television broadcast.
There is an attempt to ground Sanditon in political relevance, when characters including heiress Georgiana Lambe (a dour Crystal Clarke) take a stand against slavery and the sugar trade, but Sanditon sours with its uninspired plotting, including the melodrama of a heavy-handed conspiracy to drive reformed Season 1 villainess Esther (Charlotte Spencer) mad. As if to overcompensate, most of the cast — including the usually reliable Anne Reid as town dowager Lady Denham — overacts shamelessly, turning this Austen homage into a handsome but wearying period cartoon.
Let's hope Season 3 improves, but much as it pains me to say, I wonder if they'd have been better off quitting while they were ahead.
Sanditon, Season 2 Premiere, Sunday, March 20, 9/8c, PBS (check local listings at pbs.org)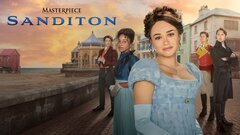 Powered by