'New Amsterdam' Is Ending With Season 5
Even if Dr. Max Goodwin (Ryan Eggold) saves New Amsterdam from the medical director who replaced him when he moved to London, Dr. Veronica Fuentes (Michelle Forbes), we won't be seeing the hospital's staff for much longer: The NBC medical drama is coming to an end.
New Amsterdam is ending with the fifth season, to air in 2022-2023, Deadline reports. (It had been renewed for its third, fourth, and fifth seasons in January 2020.) Its 13 episodes will mean the series ends with 92, eight short of the milestone 100.
"The story of Max Goodwin, and his never-ending commitment to patients at New Amsterdam, has been inspiring," Lisa Katz, President, Scripted Programming, NBCUniversal Television & Streaming, said in a statement. "We're so grateful to David Schulner, Peter Horton, and our cast and crew for their incredible dedication, talent and collaboration."
Added Erin Underhill, President, Universal Television, "When I first read the pilot script for New Amsterdam, I knew we had a winner. We cheered Max's disruption of the status quo and applauded when he asked his patients the simple yet profound question, 'How can I help?' Over the last four seasons, David, Peter and our incredible cast have tackled important and thought-provoking stories that have touched on the human condition, but also made us laugh and imbued hope. We're so proud of this series and are indebted to everyone involved in bringing New Amsterdam to life. Bravo!"
This news comes after 15 episodes of the fourth season, with seven left to air when the series returns on April 19 following The Thing About Pam's run. Max may be back in New York trying to save his old hospital, but that'll be easier said than done and the question still remains what will happen after if he does oust Veronica. After all, he's building a life in London with his girlfriend, Dr. Helen Sharpe (Freema Agyeman), and his daughter Luna — and he's planning to propose, as the promo for the drama's return shows. With the show heading for its end, we have a feeling that Max is going to have to make more than one decision about his future, especially when it comes to where it will take him.
Max is "trying to be in London and New York at the same time and is trying to raise a family and be all in this relationship and come back and save the hospital and do all these things at the same time," Eggold told TV Insider after the last new episode, on February 22. "Along with his optimism, he's certainly someone who overcommits, overreaches and tries to do a lot at once."
With only 20 episodes left in the series, he may have to make some serious changes when it comes to how he lives his life and how much he does try to do. After all, we have to see him settled somewhere when the series finales comes, right?
New Amsterdam, Returns, Tuesday, April 19, 10/9c, NBC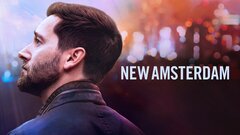 Powered by