'The Kardashians': What New Trailer Reveals About Each Sister (VIDEO)
They're backkk. The first trailer for Hulu's The Kardashians debuted Monday, March 14. And it covered the bases of each of the sister's major headlines from the last year plus brand new reveals.
From Kylie Jenner's pregnancy and Kourtney Kardashian revealing she and Travis Barker are trying to have a baby, to Kim Kardashian and Khloé Kardashian dishing on their relationship struggles with Kanye West and Tristan Thompson, there's no shortage of drama in the two-minute trailer.
"The family you know and love is here with a brand new series, giving an all access pass into their lives," a synopsis for the Hulu series says. "Kris, Kourtney, Kim, Khloé, Kendall, and Kylie bring the cameras back to give truth to their stories. From the intense pressures of running billion-dollar businesses to the hilarious joys of playtime and school drop-offs, this series brings viewers into the fold with a rivetingly honest story of love and life in the spotlight."
Here's what the trailer revealed about each Kardashian sister.
Kim Kardashian
The sisters really aren't holding back with this new show. In the trailer alone, Kim talks about her divorce with Kanye and her new relationship with Pete Davidson. At one point, she's texting someone with a big grin on her face and someone behind the camera asks, "Who are you texting, Kim? Does his name rhyme with beat?" She giggles.
"This is a relationship that I don't think anyone saw coming," Kris Jenner says. That's certainly true. A clip of Kim and Pete's kiss on Saturday Night Live also plays. Kim's next comments are about her divorce, which has been playing out publicly through Kanye's social media.
"It is really hard with Kanye," she says. "He told me my career is over."
The family told Variety the Hulu show will feature their reactions to the headlines about them, just like the previous show on E!. But the time between the drama and the coverage of it on the show will be much shorter.
"We hated how long we had to wait," Kim said. "That was like the death of us, because once we got over something, we had to rehash it all over again."
The trailer ends with a dramatic, then funny moment from Kim.
"We have all the time and all the resources to burn them all to the f**king ground," she says on a phone call. In the last clip, the family (including Kanye) hold hands in a circle as Kim says, "Please have a sense of humor and no one take anything personally that I say. I love you."
Kourtney Kardashian
It seems Kourtney was much more comfortable taking part in this show than she was on the last few seasons of Keeping Up With the Kardashians, as she's heavily featured in the trailer. The trailer opens with Kourtney walking onto her balcony, with voice over narration saying, "Life without cameras was a big change for us." It then cuts to a shot of her, Travis, Penelope Disick, and Reign Disick playing on a lawn. Scott Disick later appears, but in a shot with Kim and Kris, not Kourtney.
Kourtney's relationship with Travis will be a main part of her plot on the show. The biggest reveal of the whole trailer is the news that she and the Blink-182 drummer are trying to have a baby. At another point, she says to Kris, "It's so easy to comment on people when you have no idea what they're actually going through."
Khloé Kardashian
Khloé's comments start with Tristan.
"Tristan and I are complicated," she says, adding in a separate clip to the NBA player, "Trust takes time."
Later in the trailer, Khloé breaks down to her sisters and says, "Why are we always making excuses for the people that traumatize us?"
The moment comes after Kim's comments about Kanye, and then is followed by Khloé saying "Never go against the family" to Scott and Kris. Kris nods in agreement and says the line back.
can you believe? #TheKardashians premieres april 14th on @hulu, and coming soon to Disney+ internationally and Star+ in Latin America. pic.twitter.com/bUjooSH1Sv

— The Kardashians (@kardashianshulu) February 22, 2022
Kylie Jenner
Kylie's Kylie Cosmetics office is featured multiple times in the trailer. And she comments on her pregnancy with her and Travis Scott's second child, Wolf Webster. The rapper isn't seen in the trailer.
"My pregnancy is really public this time," she says as clips of her being surrounded by fans and photographers roll.
"I feel like we're being chased," Kendall Jenner laughs while in Kylie's car.
Kendall Jenner
Kendall first appears doing a sound bath in her yard as narration says, "I think it's time to see a whole new side of the family." Some shots of her modeling are strewn throughout, but things get dramatic when she storms out of a conversation with her mother while saying, "I'm out. This is so f**king ridiculous."
The series will be more documentary-style than the previous E! show. And as the trailer shows, lots of it was shot on drones. The new format allowed for each family member to film on their own with their individual families, giving a more intimate look at their lives than before.
The Kardashians, Series Premiere April 14, Hulu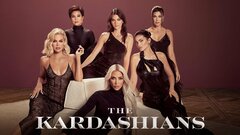 Powered by