What We Know About Dylan McDermott's 'FBI: Most Wanted' Character
The Fugitive Task Force on FBI: Most Wanted has lost its leader, and it might have just happened, but we — and they, soon — must look to the future. We already know who will (eventually) be coming in to fill the hole left by Jess LaCroix's (Julian McMahon) death — Dylan McDermott (Law & Order: Organized Crime) — but what do we actually know about his character?
First of all, we know there are two episodes until McDermott's character (whose name has yet to be released) arrives, in the April 12 episode, the 17th of the season. Special Agent in Charge Isobel Castille (FBI's Alana De La Garza) will appear in the next new episode (airing March 22) as the team figures out how they move on while grieving and who's going to be in charge (for the time being). "Ultimately these people are professional enough to get the job done and they work through it and it's actually a nice story of them figuring out how to do it," showrunner and executive producer David Hudgins told TV Insider.
The obvious pick seems to be Sheryll Barnes (Roxy Sternberg), but a recent episode also saw Jess let Kristin Gaines (Alexa Davalos) take lead and dish out assignments as they started working a case. Considering that Jess' death is obviously going to hit Barnes harder — she knew him longer, and they were "work spouses," as the EP noted — perhaps that moment was to show why it makes sense for Kristin to be taking over temporarily.
Hudgins wouldn't share much about McDermott's character just yet, but with him comes the "opportunity to reinvigorate, to shake up the dynamic." Once he joins the team, who will be "eagerly awaiting to see what happens when he gets there," it'll be "off to the races." But while doing just that, the agents will have to get used to their new leader and he to them. When it comes to how he leads, Hudgins shared, they thought of having "somebody who does have a different style than Jess, somebody who has a different outlook, maybe approaches the cases in a different way, but ultimately just like Jess, is motivated by justice, by getting the fugitive in every episode."
But might McDermott's character have history with any of the team that could lend itself to making the transition easier or harder, depending on just what that might be? We can't help but wonder after Hudgins said, "I don't want to get too far into spoiler land. The answer to that is no at this point." We wouldn't be surprised if that's something that will only be revealed onscreen.
Right now, all we can do is wait to find out more about the new leader. But being in the dark about McDermott's character on a Dick Wolf show isn't anything new. After all, Richard Wheatley's fate on Law & Order: Organized Crime remains up in the air, after McDermott's last episode of the NBC drama saw his and Tamara Taylor's characters drive off a cliff. Only her body has been found. It's possible his fate on there might depend on what FBI: Most Wanted does with him, considering it's hard to imagine him playing both roles at the same time.
Hopefully we don't have to wait until April 12 to get at least some answers about this new FBI: Most Wanted character.
FBI: Most Wanted, Tuesdays, 10/9c, CBS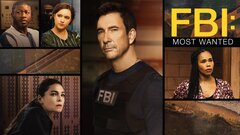 Powered by