'Law & Order: Organized Crime': Do You Think Wheatley's Alive? (POLL)
[Warning: The below contains MAJOR spoilers for Law & Order: Organized Crime Season 2 Episode 14 "…Wheatley Is to Stabler."]
Law & Order: Organized Crime has officially closed the book on the Wheatley arc, touting the "next chapter" in the promo for the next episode, but how exactly did it end for Richard (Dylan McDermott) and Angela (Tamara Taylor)? We only know the definitive fate of one of them.
In "…Wheatley Is to Stabler," Richard tried his hardest to destroy Detective Elliot Stabler (Christopher Meloni). Among the misdeeds: forcing Stabler to "confess" to "the litany of [his] crimes and abuses" — while being recorded — and having the detective's mother, Bernadette (Ellen Burstyn) kidnapped. She's OK, but Stabler's past behavior seems to be what kicks off the next arc for Stabler. "There's going to be a department investigation and charges for your actions in relation to Richard Wheatley," Sergeant Ayanna Bell (Danielle Moné Truitt) tells him at the end of the episode.
As for the Wheatleys, just as they seem to be getting away, Stabler, after rescuing his mother, caught up to them on their way to the airport. "This is not going to end the way you think it is," Stabler told Angela when she answered his call. Amidst Richard telling her he loved her, Stabler dropped a bombshell on her: Her ex-husband killed their son Richie (Nick Creegan). "He's just trying to you," Richard claimed. "One of us is lying to you," Stabler told her. "I think you know which one it is."
And Angela did. "The day we first met, do you remember what we spoke about?" she asked Stabler. Grief, he recalled. "It's what we shared. And it seems we still do. Do you remember what I said to you about grief?" she continued. "That it gets better," he said. "I lied," Angela told him — before driving off a cliff!
So that was the end of the Wheatleys, right? Maybe not. After all, Angela's body was found, but Richard's was a different story. "Nobody thinks it's remotely possible he could still be alive," Bell said, but Stabler didn't seem so sure.
It does seem like Organized Crime has left the door open for McDermott to return as Richard in the future. (He's joining the cast of FBI: Most Wanted in April, but that doesn't mean he can't return to the world of Law & Order in the future, even though they're in the same universe.) There were a few moments in the episode that foreshadowed the possibility that this is just the end of a chapter in the Stabler and Wheatley book. "It's not over," Richard told Stabler at one point. "It's just beginning." Plus, to Angela, he said, "I always win in the end, don't I?" Sure, that could be his hubris talking, but until we see his body open on a table in the morgue for an autopsy, anything is possible.
But what do you think? Do you think Richard Wheatley is still alive? Vote in the poll below.
Law & Order: Organized Crime, Thursdays, 10/9c, NBC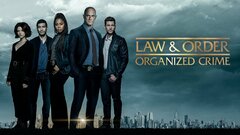 Powered by