How Pamela Adlon Decided to Wrap Up the Final Season of 'Better Things' (VIDEO)
For a television series as unique and special as FX's Better Things, it only makes sense to end it with a proper farewell to single mother/actress Sam Fox (Pamela Adlon) and her colorful orbit of family and friends. In fact, without spoiling what's to come in the final 10 episodes, Adlon reveals to TV Insider that she knew exactly what she wanted going into crafting the fifth season, which premieres on Monday on FX (next day on Hulu).
"It was tough because I knew I wanted to give Max (Mikey Madison), Frankie (Hannah Riley), Duke (Olivia Edward), Phil (Celia Imrie), and then finally Sam enough consideration and let them all have a win, kind of, in a way," Adlon says. "It was challenging trying to figure out and to be able to feel this satisfaction that everybody has moved forward in a way, including the village. And everybody in the village gets a tip of a hat."
During our chat, Adlon also opened up about playing both the funnier and more dramatic sides of Sam's story, more of which we'll see in these last episodes. "For me, it all has the same value because everything means so much," she says. "It's way harder to make people laugh than it is to make them cry and it all goes in the same category for me."
She also talked about guest stars — Danny Trejo! Lena Waithe! Iconic TV creator Marty Kroft! — stopping by the final season, who vacillate between playing heightened versions of themselves and fictional characters. Plus, find out where Sam's El Camino ended up once the series wrapped! Watch the full interview above.
Better Things, Final Season Premiere, Monday, 10/9c, FX (episodes premiere next day on Hulu)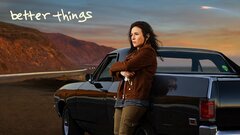 Powered by