Roush Review: 'Better Things' at Its Best in the Final Stretch
Will the real Pamela Adlon please stand up? It's never easy distinguishing this accomplished auteur—writer, director, star—from her fictionalized alter ego, Sam Fox, the embattled mother and daughter whose hectic life is depicted in FX's Peabody-winning Better Things, of which there are few better things on TV.
Now in its fifth and (tell me it's not so) final season, this terrific semi-autobiographical series blurs the line further when Sam visits a genealogist in the opening episode (the first of two), just as Adlon did in a recent episode of PBS's Finding Your Roots. As scandalous skeletons tumble from the family tree, much as occurred in real life, Sam takes heart: "That makes me feel like we're a part of a greater chain of history and humanity…. It gives me confidence, somehow."
She could use it.
A former child actor struggling to stay afloat and relevant in Hollywood, Sam is not getting any younger, and neither are the three lights of her life, who are also the banes of her existence: her daughters Max (Mikey Madison), Frankie (Hannah Riley) and Duke (Olivia Edward), each on their own turbulent journeys of self-discovery. They're as likely to smother their mom with needy love as they are to turn on her, mocking her with derision and shutting her out of their various traumas and escapades.
The relationship is just as fraught with Sam's eccentric mother, Phyllis (the flinty Celia Imrie), who lives across the street and delights in ambushing Sam with passive-aggressive triggers. "You kill me, and then you revive me," Sam concedes to Phyllis after they clash, make up and then greedily reach for the vodka.
Better Things is the perfect mix of sweet and sour, finding unexpected moments of joy amid the mundane—Sam's fangirl gushing during a random encounter with children's TV legend Marty Krofft while shopping for groceries—and then punctuating them with terrible surprise, like the flash of random terror and despair that ensues when gunshots ring out in the same grocery parking lot.
The anecdotal storytelling has the rhythm of life, pausing long enough for Sam to devote hours to making a pot of borscht in her lived-in kitchen. (Watch her push back when a feng shui consultant says of this sacred space, "The energy is stagnant." Hardly.)
Her moods are epic as she juggles family, career and friendship (with Diedrich Bader exceptional as her compassionate gay bestie): sentimental and acerbic, sad and jubilant, tender and bitter, exasperated and exhausted. I don't know what her next act will be, but after five seasons with Sam, I feel I know Pamela Adlon, and I trust her.
Better Things, Season 5 Premiere, Monday, February, 28, 10/9c, FX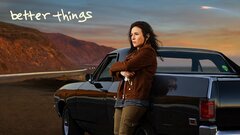 Powered by