'Space Force' Season 2 Director Ken Kwapis on Reuniting With 'The Office' Team
Space Force Season 2 is more than just a return for Mark Naird (Steve Carell) and the rest of the Space Force team — it's also the stage for one epic reunion as Ken Kwapis boards the show to direct all seven installments.
Kwapis may be the director of films like He's Just Not That Into You and The Sisterhood of the Traveling Pants, but he's also helmed some of comedy's best episodes over the past few decades, including many of The Office's hits ranging from "Diversity Day" to "Finale." And now, he's reuniting with Carell and Greg Daniels for the latest chapter of Netflix's workplace comedy Space Force.
"It was the first time Steve and Greg and I have worked together since The Office," Kwapis tells TV Insider. "Greg and Steve enlisted me in part because they really know that I can create a good atmosphere for the actors. And I feel that what they wanted to focus on this season was character comedy."
Characters do take the lead in this latest season as the Space Force team remains relatively grounded throughout, dealing with various challenges happening Earthside. The character-driven focus certainly struck a chord with Kwapis, who can't speak highly enough about the actors.
"The core ensemble is like a comedy dream team. And so with such gifted actors, my goal as a director was just to make sure that the cast had all the time and space to be inventive to create great comic moments." Catching those great comic moments isn't hard to come by with this cast, according to Kwapis, who notes that keeping the cameras rolling is a perfect way to capture them.
One particularly hilarious scene to look forward to this season is a medical procedure Mark must endure and by proxy, his colleagues and daughter. "Steve Carell is incredibly generous towards his fellow actors," Kwapis shares. "In my experience, some actors only bring their A-game when they're on camera, and when they're off-camera, some actors just phone in their performance. But not Steve."
When it comes to grounding the characters, Kwapis relies on reliability, and "there was a lot of focus on making the characters very relatable," he says. "Whether it's John Malkovich trying to maintain the integrity of being a scientist in the face of [budget cuts] or Jimmy [O. Yang]'s character pining after Tawny [Newsome]… or Diana [Silvers]' struggle to deal with college applications, the individuals have a story that I feel is real."
See Also
Greg Daniels previews new characters, growing friendships, and more in the second season of the Steve Carell-starring Netflix series.
As for Kwapis' approach, he's well-versed in half-hour comedies between credits like Parks and Recreation, Malcolm in the Middle, and The Bernie Mac Show along with The Office. Whether that serves as a direct influence in Space Force's Season 2 directing, Kwapis admits, "I'm always trying to find a fresh approach, but not only do I kind of sometimes use ideas I've done in the past, but I'm constantly thinking about films I've seen over time… I'm drawing both from my own experience and from my love of watching films and television."
Viewers can gain more insight on Kwapis' approach through his recently-released book, But What I Really Want To Do Is Direct. "For people who are fans of television comedy, I explore a lot of the shows I worked on, including The Bernie Mac Show, which I helped launch with Larry Wilmore; The Larry Sanders Show, [and] The Office."
Kwapis hopes that it can inspire aspiring directors as he opens up about "40 years of experience as a director for both the big and small screen."
"I think there's more than a few nuggets of wisdom that I share," he muses. Check out what other nuggets of wisdom he might share when Space Force Season 2 streams on Netflix.
Space Force, Season 2, Streaming Friday, February 18, Netflix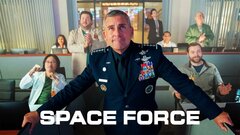 Powered by