'Arrow's 100th Episode Brings Back Old Friends and Joins The CW's 'Invasion' Superhero Crossover
Leave it to Arrow to target two bull's-eyes during The CW superverse's biggest week ever: Not only is this the third episode of the "Invasion" crossover that kicks off with Monday's Supergirl (Nov. 28, 8/7c) and plays out across The Flash (Tuesday, Nov. 29, 8/7c), Arrow (Wednesday, Nov. 30, 8/7c) and DC's Legends of Tomorrow (Thursday, Dec. 1, 8/7c), but it's also the 100th episode of the show that started it all.
"I felt the biggest sense of accomplishment while filming this episode," marvels star Stephen Amell, whose hooded vigilante Oliver Queen has gone from island castaway to elected official in the last five years. "You think back to the pilot, and all the people who have been with us since then, all the people who have grown and changed…it's really something."
And as such, the hour promises to be a supersized salute to the show's history, even as Oliver, Barry Allen/The Flash (Grant Gustin), the Legends team and Supergirl (Melissa Benoist) unite to save Earth's future from a genocidal alien race known as the Dominators. "There was some concern online that the crossover would overshadow the celebratory [nature] of the 100th episode," notes executive producer Andrew Kreisberg. "And I want to assure everybody that this episode is a love letter to fans of Arrow. There are special guest stars, nods to the past, returning villains and friends. It's an amazing episode and will feel like the 100th episode."
Among those returning friends set to appear are Susanna Thompson's Moira Queen, Jamey Sheridan's Robert Queen, Colin Donnell's Tommy Merlyn and Katie Cassidy's Laurel Lance. The fact that those characters are all dead now would have one assuming we'd see them in a flashback, but exec producer Wendy Mericle hints at something a little bit more magical amid all of the extraterrestrial action. "We are actually going back to look at what Oliver's life would be like if he hadn't gotten on [his father's ship] the Gambit." It would have been a lot more boring, that's for sure.
Arrow, Wednesdays, 8/7c, The CW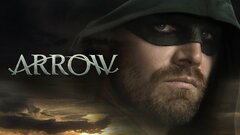 Arrow
where to stream
Powered by