'Anne of Green Gables': New PBS Production Retains Optimistic Point of View
Since its publication in 1908, Canadian author Lucy Maud Montgomery's Anne of Green Gables has never been out of print. By any measure, that qualifies the novel as a classic, and as Montgomery's granddaughter Kate Macdonald Butler points out, "Classics are meant to be told again and again and again."
The latest incarnation arrives Thanksgiving Day on PBS. "There's something magical about the time and how simple it was," says Butler, who is an executive producer on the film, the first time she's been involved with an adaptation of her grandmother's work. "I would say this is probably the most authentic version to date."
The story follows Anne Shirley (Ella Ballentine), a precocious orphan who arrives in the quaint fictional town of Avonlea on Canada's Prince Edward Island, where she is welcomed into the lives and hearts of her adoptive family: the sensible Marilla Cuthbert (Sara Botsford) and her reserved brother, Matthew (10-time Emmy nominee and Golden Globe winner Martin Sheen, above, with Ballentine).
RELATED: Splash and Bubbles: John Tartaglia Brings His Newest Puppet Show to PBS Kids (VIDEO)
The new film also incorporates certain elements only hinted at in the novel. In a nod to Budge Wilson's 2008 prequel, Before Green Gables, scenes from Anne's humble—and in some ways traumatic—early life are shown in flashbacks.
Still, an optimistic point of view remains. "The theme that runs through the story is about belonging," Butler explains. "It's about a community. It doesn't matter what century you're born into, we all want to belong. "
With so much material—Montgomery wrote an additional five novels starring Anne—Butler promises that this new version will continue, and two additional films are already in production.
"Someone asked me recently if I could describe Anne in a word, and I said, 'No, not one,'" Butler says. "She's many things."
Anne of Green Gables, Movie premiere, Thursday, Nov. 24, 8/7c, PBS (check local listings at pbs.org)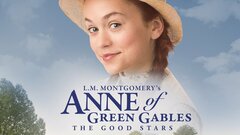 Powered by