WATCH: Anne Goes (Unintentionally) Green in 'Anne of Green Gables—The Good Stars' Preview
Green hair at Green Gables. Fans of Lucy Maud Montgomery's Anne of Green Gables book series know just how Anne feels about her vivid red hair, a source of endless vexation that leads her to smash a slate over frenemy Gilbert Blythe's head when he nicknames her "Carrots."
In this exclusive clip from L.M. Montgomery's Anne of Green Gables—The Good Stars—the latest in PBS's Anne film series—the spirited Miss Shirley (Ella Ballentine) takes matters into her own hands when it comes to getting rid of that red hair while Matthew (Martin Sheen) and Marilla (Sara Botsford) are away on an errand and a stranger comes calling.
"It's the end of my brief, tragic life," Anne announces, ticking off the various activities she'll miss beyond the Cuthberts' front door, as Marilla vigorously scrubs the peddler's dye from her mournful girl's head.
But, like his character, Sheen told us in a recent interview that he finds Anne's Titian tresses a delightful accessory to her spirit.
"I love the image of her red hair," Sheen said with a smile. "She's on fire in every conceivable way—emotionally and physically and spiritually and psychologically. She's on fire! There's never a dull moment between us. It's like, 'What's she off to now?' While she causes all this great concern, it's with an equal measure of joy."
L.M. Montgomery's Anne of Green Gables—The Good Stars, Nov. 23, 8/7c, PBS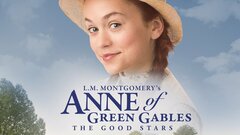 Powered by