'Splash and Bubbles': John Tartaglia Brings His Newest Puppet Show to PBS Kids (VIDEO)
Something's fishy. The new PBS Kids series Splash and Bubbles, created by actor-puppeteer John Tartaglia (Broadway's Avenue Q) and coproduced by the Jim Henson Company, will take youngsters under the sea for some fun, zippy lessons in marine biology that also celebrate the importance of community and individuality.
"The idea of mixing science for kids with a social-emotional curriculum that embraces diversity seemed really daunting," says Tartaglia, "but because the underwater world is filled with so many different kinds of life, it all just flowed beautifully. For example, we have an octopus character who feels self-conscious about the way he dances because he has no bones—a great opportunity to teach kids about the wonderfulness of being unique. We go deep down in the ocean and meet bioluminescent creatures that look very unusual and not at all like the creatures we see closer to the surface, and we learn why their differences are so cool and interesting and important."
The series, which uses new landmark technology in digital puppetry, also packs gentle warnings about the need to save our dying oceans. "We don't make it scary when we touch on conservation or make kids feel it's their fault," says Tartaglia. "But we do offer ways to make things better. We can't get kids to protect something they don't care about, so the key is creating characters and stories about marine life that get them excited, that make them feel invested."
RELATED: Muppet Babies Are Making a Comeback!
Tartaglia voices the role of Splash, a yellow fusilier fish who has settled with his family in Reeftown, an ocean community as prone to problems and issues as the ones on land. "We look at what happens when there's an underwater earthquake and Splash is freaked because he's never experienced such a thing before," Tartaglia says. "True, you can't stop earthquakes or storms or other natural disasters from happening, but we can help kids understand that the more they learn about such events the better they will feel. It's also a chance to talk about how we can all help each other through difficult times."
Here's a behind-the-scenes peek at the making of the series:
Splash and Bubbles, Series premiere, Wednesday, Nov. 23, PBS (check local listings at pbskids.org)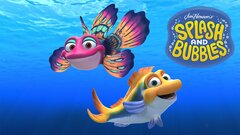 Powered by