'Better Things': Sam's Back & Barely Keeping It Together in Season 5 First Look (VIDEO)
Better Things is gearing up for its fifth and final season at FX and the network is giving viewers a first look at Sam Fox's (Pamela Adlon) latest chapter.
Kicking off on Monday, February 28, the show sees the return of Sam as she deals with juggling motherhood, her life as a working actor, and all of the challenges that come with getting older. As the single mother of three is left little time for herself, she's also coping with the increasing signs of aging in her mother Phyllis (Celia Imrie).
As teased in the trailer, below, she's attempting to embrace each moment and her family members including her daughters Max (Mikey Madison), Frankie (Hannah Riley), and Duke (Olivia Edward). But they aren't making things any easier on Sam as they give her a hard time.
"Mom, are you really out of breath? You look ridiculous. You need to get in shape. I mean, imagine if you did this every single day you might actually have a chance of living past 60," Frankie tells her mother after the family goes climbing up a steep set of stairs. Instead of taking things personally, Sam just responds with an out-of-breath "yes."
See Also
Plus, get a first look at Pamela Adlon's Sam Fox back in action for the fifth chapter.
This is just a taste of the raw honesty and biting humor that's in store for Season 5 which will also include fierce love from Sam for her whole family. Together, the Fox women are heading into their next phases of life, and are inspired to reevaluate themselves, learn from the past, and find their own direction.
See the full trailer, below, and don't miss Better Things when the series returns later this month on FX.
Better Things, Season 5 Premiere, Monday, February 28, 10/9c, FX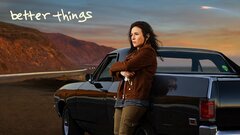 Powered by