The 'Scorpion' Cast Previews 'Plight at the Museum'
In the aftermath of the reveal of Happy (Jadyn Wong) and Walter's (Elyes) long-secret marriage—and Happy's pregnancy with Toby's (Eddie Kaye Thomas) child—things are business as usual on Scorpion…well, kind of.
This week's episode, "Plight at the Museum," finds Team Scorpion tasked with a seemingly simple job at the Los Angeles Natural History Museum. However, with tensions simmering, it also requires the group to be sequestered overnight. "This episode is going to be so zany and goofy," Ari Stidham (Sylvester) says. "My character is obsessed about this falcon at the museum…I get to work with this gorgeous pair of falcons. We Olsen-Twinned the falcon; there were two playing one…I could not tell them apart. One was very sweet, one was very vocal."
RELATED: Behind the Scenes on Scorpion Season 3
With Toby still reeling from the news he's going to be a father, his overprotectiveness toward Happy kicks into high gear. And after he and Paige (Katharine McPhee) wind up separated from the rest of the group, he leans on her for life lessons. "I was so happy when I saw a lot of our scenes together," McPhee says. "You don't see them as often, but they're also really well-written, funny scenes where Toby is going through all these different emotions and freak outs [about the pregnancy]; knowing Happy is not the warmest person, so she's not going to be this warm mother, so he's going to have to be the mother and the father."
"In this episode, she's being the encourager, the confidant, the sympathizer, all that stuff to keep his morale up," McPhee continues. "She's a little bit of a mentor in this episode. I like the relationship between Toby and Paige. I like seeing that dynamic between the two of them."
RELATED: Scorpion Stars, Producers on Happy's Two Big Secrets
And Toby will embrace the wisdom Paige has to share. "Toby is smart enough to know he's an emotional mess," Thomas laughs. "What's happening right now, he can use all the help he can get."
However, for the group back at the museum, things take a twist when they find thieves robbing an exhibit to get materials for a bomb. And in true Scorpion fashion, "we end up saving the day," teases Wong.
Scorpion, Mondays, 10/9c, CBS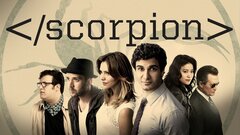 Powered by