On Stephen Colbert's Live Election Night Special, a Shocked Host Reports the Surprising Results
Stephen Colbert's live election night Showtime special was meant to be a raucous uncensored celebration—albeit one where the guests' backpacks were checked by bomb-sniffing dogs—of the ending of an exhausting and brutal Presidential campaign, but it ended as a wake.
New York's Ed Sullivan Theater was filled by 10:30 Tuesday night with an enthusiastic, young audience who rocked with Jon Batitse and Stay Human and played along with a warm-up guy who pulled college students up on stage to ask them embarrassing questions.
RELATED: Who Were the Winners and Losers of the 2016 Election?
At 10:56, Colbert came out to greet the crowd with the news that Clinton had 131 Electoral College votes and Trump had 168. This being Colbert's fan base, i.e. liberals, they booed. He said, "Everybody calm down," and comforted a young woman who was crying, reminding her "the evening is early." Switching gears, he answered a few questions and sang a little. And joked: "I did this in 2000 with Bush/Gore. I'll tell you in 32 days. This is nothing."
The show opened with an animated short that traced Trump's decision to run with Obama's "humiliating" him at a White House Correspondents Dinner while he plotted to get the POTUS's Kenyan birth certificate and thought back to a father who would only love him if he won. There is nothing worse than a loser. Funny yes, but as results poured in, it seemed the joke was on his opponents.
When Colbert made his entrance and was greeted with the usual claps and the chanting of his name, he stopped them with the note: "You don't have to chant my name, America doesn't have dictators—yet."
Free of broadcast constraints, he said happily "I'm your host Stephen F–king Colbert," but quickly set the tone of the show with "The election is too close to call—and too scary to contemplate. It's a nail biter-and a passport grabber. It's like we're trying to avoid the apocalypse and half the country is voting for the asteroid."
RELATED: 11 TV Candidates Who Got Our Vote
Colbert went on to do some half-hearted jokes highlighing the much-viewed picture of Trump spying on his wife's vote, and got some titters when a buff naked man came out with a card over his privates announcing a state's vote.
When his first guest, Jeff Goldblum, arrived, Colbert threw away his cards and turned the interview into a therapy session that had something to do with Chaos Theory, creating an uncontrollable monster and meditating. "There might come a point in the evening I may say I want you to rock me," the host sort of joked.
Throughout the show, Colbert received vote counts in various states: Clinton wins received claps and in Virginia's case, cheers and a standing O; but as the evening wore on, gasps were winning the day and Colbert's smile was more one of rictus than joy.
The death certificate was signed when Showtime's election pundits Mark Halpern and John Heilemann of The Circus took their seats. As Colbert asked, "What the f–k is happening?" After noting some of Trump's "unprecedented" statements, including the "grab women by their [genitals]" and "the outright racist" comments, Heilemann announced Clinton had a 5 percent chance to reach 270 electoral votes and become president. Halperin disturbed the room with his proclamation: "Outside of the Civil War, World War II and including 9/11, this may be the most cataclysmic event this country's ever seen." Now that was a downer for the crowd. Colbert responded with "That is a horrifying prospect," he said. "I can't put a happy face on this and this is my job." And he gobbled the booze that he was sharing with the men.
Laura Benanti came on to repeat her much praised Melania Trump impersonation and though it was amusing, it seemed out of step with the moment and the crowd. Singer Elle King briefly lifted spirits, as music can, with a rocking rendition of "I'm Not America's Sweetheart."
And then it was back to what was fast becoming a wake. There was a final panel that included Heilemann, radio show host Charlamagne Tha God and comic Jenna Friedman. No one much felt like joking. The main points seemed to be that women should hurry up and get their abortions now (Friedman alluding to a Trumped up Supreme Court killing Roe v. Wade), Charlamagne pleading to Jesus that if he ever meant to come back, this would be a good time and Heilemann noting that Bernie Sanders and Joe Biden are probably siting there being the most miserable.
After showing a lovely fall foliage photo of the Buzz Aldrin Middle School where Colbert had voted, he signed off with a monologue that silenced the audience, one that was at first serious, about ending "the poison" of party divisiveness, "keep your American flag but take off your American flag hat, and get back to your life."
He then lightened the mood with a proclaimed "silly" list of what makes American great and brings us together—including "every American knows the way to eat Kit Kats is in segments, not eaten like a normal candy bar, you animal." He signed off with "Good night and may God Bless America," and the band played "My Country Tis of Thee," while he sang along.
It was an awkward and strange show, rarely funny, but very heartfelt by the host, who was clearly distraught with the election's unexpected outcome and wanted to share that with his audience and perhaps offer some healing. It's the kind of thing that Colbert does well.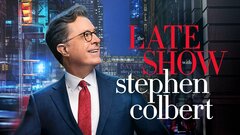 Powered by