'Billy on the Street's 7 Greatest Guests (Including Elena, Of Course)
It's not easy to be funny in the presence of Billy Eichner when he's in full Billy on the Street mode. Fans of the show know what that means: manic, running around the streets of Manhattan (mostly around the Flatiron building), shoving a microphone in people's faces and impatiently yell-asking silly questions. Even for people who are paid to be funny, it's a tough gig.
So, with the fifth season of the truTV show beginning this week, here are seven of the show's funniest guests. We'll start with the show's most famous guest (at least as far as the show's fans are concerned), who also just happens to be the only one who isn't a celebrity.
RELATED: TruTV Renews Billy on the Street
1. The resident guest, Elena.
While not a celebrity, Elena is a definite fan favorite. A recurring Billy on the Street guest, she certainly isn't shy when it comes to voicing her opinions and is more than capable of sending any of Billy's ribbing right back at him.
2. The blockbuster star, Chris Pratt.
This Parks and Rec alum went for a wild run around NYC with Billy to see how many people would recognize him and surprisingly there weren't many that did, despite his starring turn in Guardians of the Galaxy. Some even mistook him for fellow Marvel universe actor Chris Evans. Not even starring in multiple blockbusters gets Chris the recognition he deserves.
3. The award winning actress, Julianne Moore.
The Still Alice actress followed Billy to the heart of Times Square where she acted for tips. A true star.
4. The nice guy, Paul Rudd.
The comedic actor is known as one of the nicest guys in Hollywood and he didn't disappoint in his Billy on the Street segment. The objective: ask perfect strangers if they would have sex with Rudd for a dollar. Doesn't seem like a difficult choice, to be quite honest, but you'd be surprised.
5. The up-for-anything pal, Amy Poehler.
Poehler, funny lady and Eichner's former Parks and Rec costar, took to the street with Billy to serenade unsuspecting pedestrians with cheery Christmas carols. Alas, Eichner had zero time to deal with unappreciative bystanders.
6. The comedy veteran, Will Ferrell.
Famously known for his role in the Christmas movie Elf, this SNL vet tapped into his festive spirit and dressed up in holiday onesies with Billy.
7. The fantastic writer, Tina Fey.
30 Rock creator Tina Fey was challenged by Billy to thank 20 Latino actors in a fake Oscar acceptance speech. Will she fail or will she succeed in the challenge? The answer may surprise you.
RELATED: QUIZ: Which Bob's BurgersCharacter Are You?
BONUS: Thanksgiving Day Parade with special guest Katie Couric.
Much like the famed Macy's Thanksgiving Day Parade, Billy and Katie act as commentators for a very Billy on the Street mock parade. A description could never really do this justice, so just watch for yourself.
Billy on the Street, Season premiere, Tuesday, Nov. 15, 10:30/9:30c, truTV.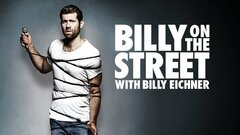 Powered by