Watch Kevin Hart Make His Dramatic Debut in Trailer For Netflix's 'True Story' (VIDEO)
Netflix has released the first trailer for its upcoming limited series, True Story, featuring Kevin Hart in his first dramatic series role.
Hart stars alongside Wesley Snipes in the seven-episode series, which centers on a world-famous comedian and his wayward older brother. Hart plays stand-up superstar Kid, who becomes involved in a matter of life and death when the consequences of a lost evening with his brother Carlton (Snipes) threaten to destroy everything he's built.
The trailer (watch below) begins with Kid at the height of his stardom, performing to sold-out stadiums across the country. However, a tour stop in Philadelphia reunites him with his brother, and soon, things begin to spiral out of control. We then see Kid and Carlton pursued by the police, attacked by criminal gangs, and embroiled in shoot-outs.
"Now I've got a lot more to lose than just my career," Kid says towards the end of the clip as we see him in an orange jumpsuit in what looks to be a prison.
True Story is executive produced by Narcos showrunner Eric Newman, who also serves as an executive producer alongside Hart and Stephen Williams (Watchmen). Williams is set to direct the first three episodes, with Hanelle Culpepper (Star Trek: Picard) directing the final four.
In addition to Hart and Snipes, the series also stars Tawny Newsome as comedy writer Billie, Paul Adelstein as Kid's manager Todd, Will Catlett as Kit's bodyguard Herschel, Lauren London as Monyca, the mother of Kit's child, and Ash Santos as partygoer Daphne. The show also stars John Ales, Chris Diamantopoulos, and Billy Zane as brothers Nikos, Savvas, and Ari, respectively.
Speaking to Entertainment Weekly about the role, Hart said, "This was an opportunity for me to step outside of my norm and partake in a genre of this craft that I never imagined that I would get to… I wanted to make sure that it was something that I could do and have my fan base really believe in, respect, and say, 'We've actually witnessed him work his way to get here.'"
True Story, Series Premiere, Wednesday, November 24, Netflix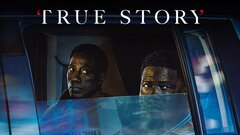 Powered by