'NCIS: Los Angeles': Eric Christian Olsen on the Long Road Ahead for Deeks and Kensi
NCIS: Los Angeles's Eric Christian Olsen is typically the show's comic relief. But lately he's the dramatic center as his character, Marty Deeks, helps partner and lady love, Kensi Blye (Daniela Ruah), recover from the helicopter crash that left her partially paralyzed in the premiere. (The storyline was written to accommodate Ruah, who was about to give birth to her second child with Olsen's stunt double and real-life brother, David.) We talked to the actor about playing the sad clown.
RELATED: NCIS's Sean Murray on How a 'Nervous' McGee Pops the Question
How rocky is the road ahead for Kensi and Deeks?
She essentially has to relearn how to use her left side. We did background research on these types of recoveries and how they affect not only the injured person but also their relationships. Deeks wants to be someone who gives unflinching, unconditional love, no matter how Kensi is feeling or lashing out. There was a line in an episode about how we always say we'll go to the ends of the Earth for the people we love, but when we're actually called on it, we realize we don't know the path. That really describes it.
You filmed all your scenes with Daniela for the first half of the season in a little over a week, because of her maternity leave. What was that like?
Insane. We shot the most emotional, crazy moments back-to-back. We lost sense of everything happening in the world. But we played into that. At the end of the day, the only thing that mattered to Deeks was her recovery.
RELATED: NCIS: Los Angeles: Hetty Is in Hot Water, Callen Rooms With His Dad and More
Did you feel any extra responsibility as an uncle on set?
Oh, absolutely. I was ferocious in my protection of my sister-in-law and soon-to-be niece. Daniela was super pregnant when we filmed the crash. We were shooting in 113 degrees, wearing ridiculous camouflage outfits. At one point, they were digging a hole in the ground for her to lie on her belly. I'm like, "If she's not comfortable, we're not shooting this!"
NCIS: Los Angeles, Sundays, 8/7c, CBS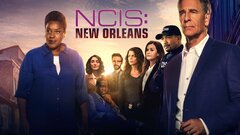 Powered by