'NCIS's Sean Murray on How a 'Nervous' McGee Pops the Question
Viewers have seen how NCIS's Timothy McGee (Sean Murray, above, with Wilmer Valderrama) fusses over computer accessories. "Dust," he told boss Jethro Gibbs (Mark Harmon) in this year's season premiere, "is a keyboard's worst enemy." So now imagine how the obsessive-compulsive, newly promoted senior agent is going to handle holding on to an engagement ring once he finally decides to pop the big question to live-in girlfriend Delilah (Margo Harshman).
RELATED: NCIS: Meet the New Agents
"He's got this very carefully thought-out proposal and wants everything to be just perfect," Murray says, "but nothing goes perfect. The McGee who always needs control of things must face the fact that there is his ultra-planned life and then there is what happens in his real life." And when work calls, he ends up having to postpone that very special moment and carry the ring around with him throughout the episode.
"It makes him so nervous," says Murray. "He starts asking people to take it from him until he can make the proposal happen. He gets crazy. Delilah starts noticing, so he gets paranoid. He becomes like Gollum in Lord of the Rings with his precious!"
RELATED: NCIS: First Look as Wilmer Valderrama and Jennifer Esposito Join the Team
Murray, who's been married to wife Carrie James since 2005, obviously had his own engagement. But the experience that influences McGee to make the leap (or, as Murray says, "ask himself what he's doing with his life") is another thing the actor shares with his character. McGee catches the marriage bug while investigating the murder of a Navy lieutenant during what's called a tiger cruise, when the families of Navy officers are invited to stay on a ship overnight. Murray, whose father, Craig, was in the Navy, attended one of these waterbound sleepovers as a 10-year-old when he flew to meet his dad on the U.S.S. Enterprise (yep, that's its real name) near Hawaii. He recalls it fondly—and with a growling stomach.
"I remember walking the hallways at night, with all the red lights and the dark hum, like in the movies," he says. "We watched the jets take off and one even broke the sound barrier over the ship. But I was a 10-year-old, so what really excited me was them having a McDonald's on the ship. I could not believe it. I kept thinking 'They have a McDonald's!'"
NCIS, Tuesday, October 11, 8/7c, CBS.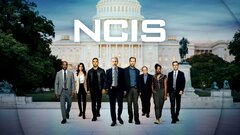 NCIS
where to stream
Powered by