'Flowers in the Attic' Prequel Series 'The Origin' Ordered at Lifetime
On August 17, Lifetime announced that it has greenlit the four-part TV event Flowers in the Attic: The Origin. The miniseries will serve as a prequel to Lifetime's successful Flowers in the Attic movie and subsequent follow-up films based on the books by V.C. Andrews, with the miniseries following the Andrew Neiderman prequel novel, Garden of Shadows.
The Origin stars Jemima Rooper and Max Irons as Olivia Winfield and Malcolm Foxworth, parents of Heather Graham's Corrine from the 2014 film. This time, the story follows Olivia, previously played by Ellen Burstyn, and her backstory as she discovers the Foxwood family's dark secrets.
Starring alongside Rooper and Irons is a star-studded cast, including Kelsey Grammer, Paul Wesley, Harry Hamlin, Kate Mulgrew, Alana Boden, Hannah Dodd, T'Shan Williams, and Callum Kerr.
"Flowers in the Attic: The Origin tells the story of the headstrong and determined Olivia Winfield (Rooper) who is working alongside her beloved father (Hamlin) when she finds herself unexpectedly wooed by one of the nation's most eligible bachelors, Malcolm Foxworth (Irons)," the release reads.
See Also
Twin-credible! Stars look just like the Prince and Princess of Wales.
"After a whirlwind romance, Olivia finds herself as the mistress of the imposing Foxworth Hall, where she soon discovers that the fairytale life she expected has quickly become a nightmare. Under Malcolm's debonair exterior lies a dark heart, and a twisted evil lurks inside Foxworth Hall that will threaten Olivia's happiness and that of her children. Her attempts to keep them all safe ultimately push Olivia to become to most terrifying version of herself, leading to her inevitable—and notorious—decision to lock her grandchildren in the attic…"
No release date has been announced at this time, so stay tuned!
Flowers in the Attic, Miniseries Premiere, TBA, Lifetime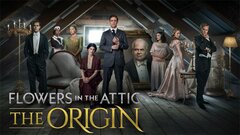 Powered by