Watch a Life-Changing Moment in Lifetime's Horrific 'Flowers in the Attic: The Origin' (VIDEO)
Oh, if we could only warn unsuspecting heroine Olivia Winfield Foxworth (Jemima Rooper), her life would've probably ended up much better than we see it play out in Lifetime's new limited series Flowers in the Attic: The Origin. The four-episode series gives us the backstory to all the twisted family drama that made V.C. Andrews' 1979 novel Flowers in the Attic such a sensation and spawned more books and adaptations over the years.
In The Origin, airing on four consecutive Saturdays starting July 9, we meet Olivia, who has never been married and seemingly content with enjoying life working alongside her loving father, Mr. Winfield (Harry Hamlin). However, the arrival of the dashing Malcolm Foxworth (Condor's Max Irons) changes everything once he enters Olivia's life and sweeps her off her feet with dreams of a happy ever after with him at Foxworth Hall in Virginia. However, if you know the Flowers in the Attic saga at all, you know nobody ever really lives happily ever after, right?
See Also
The four-part series is a prequel to the V.C. Andrews bestsellers.
But at the start of this new series (long before she'd eventually lock her grandchildren in that infamous attic), a more innocent Olivia has no idea what the future holds and in this exclusive clip courtesy of Lifetime television we see exactly the point when her life changes. In the clip, Olivia's father introduces her to Malcolm, who clearly has a strong effect on her with his impeccable manners and striking good looks.
However, will her father or cousin Amos (Tell Me A Story's Paul Wesley) come to realize that maybe a pairing between Malcolm and Olivia is one that shouldn't happen? You'll have to watch to find out but having seen all four episodes, we can tell you that the viewer (and Olivia) is in for a rollercoaster of shocking storytelling as her world ventures to unimaginable highs and lows.
The series, shot in Romania, also stars Kelsey Grammer as Garland Foxworth (Malcolm's father) as well as Kate Mulgrew, Alana Boden, Hannah Dodd, Callum Kerr, Luke Fetherston, Buck Braithwaite, and T'Shan Williams.
Flowers in the Attic: The Origin, Premiere, Saturday, July 9, 8/7c, Lifetime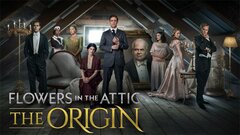 Powered by