'Scorpion' Producers, Stars on Happy's Big Secrets
Warning! This episode contains spoilers for the October 17 episode of Scorpion, "Little Boy Lost."
Holy matrimony: Scorpion's Happy (Jadyn Wong) is married to…Walter (Elyes Gabel)?!
Toby (Eddie Kaye Thomas) only learned about his girlfriend's secret husband when he proposed at the end of Season 2—and he became obsessed with finding out the man's identity, despite Happy's assurances she didn't love her spouse. And Happy was telling the truth: she married Walter to help him stay in the country.
"I think it makes so much sense," Wong says. "These are two people who are good friends, who work together. I think for both of them, they've always prioritized their work. Like, let's solve a problem. It's a very logical, efficient way of solving a problem that Walter had with his visa. There's no future outlook of 'what if I get married?' [when they made the move]. There's none of that. I don't think she planned that."
For Toby, "I don't think it's ever going to go away that [it] existed," Thomas allows. "It's a very logical reason, but I think it hurt Toby a lot. It was the logical thing to do, it makes all the sense in the world, but emotionally, it's a tough thing. I'm interested to see how these characters get through this."
RELATED: Behind the Scenes of Scorpion Season 3
But Happy and Walter's marriage wasn't the only bombshell to hit Team Scorpion in "Little Boy Lost"—Happy is also pregnant with Toby's child.
"We knew that revealing those two bombshells back-to-back would really work," executive producer Nick Santora explains. "We thought it would be fun for the fans of the show to hit them with two character reveals in the same episode within minutes of each other."
"Moving forward, it's a very confusing garage," he continues. "Toby works with his best friend who is married to the person he wants to be his fiancee, who is pregnant with his child. That's complicated."
RELATED: Scorpion Season 3 Gets More Personal
The unexpected pregnancy will shake Toby and Happy, whose own childhoods were less than ideal. "There's almost so much fear," Wong says. "I kind of looked at [with] her background in foster care, there are emotional blocks that are still embedded in her that represent the past. She has one foot stuck in that. And her relationship with Toby reflects a potentiality of growth and possibility. And with this baby, whether she's conscious of it or not, it's like a new opportunity for her to have this family she never had."
She continues, "I almost see it as one foot in the past and one foot in the future. It's almost like this turmoil in her; that's how I read it. I think there's some fear, also, around children. She didn't really have a childhood. It's like she's scared—she doesn't want to hurt [her kid]; it's the cycle of what you experienced as a child. It's not really knowing if she could do any different."
"Toby's a really loving guy; he really wants to do the right thing with Happy and this baby," Thomas adds. "It's just going to make this connection even tighter."
RELATED: Scorpion Bosses on Walter and Paige's Big Moment
As the duo preps for parenthood, Happy will get a little hands-on experience in an upcoming episode. "We'll see Happy babysitting Ralph," executive producer Nicholas Wootton previews. "There's a very funny [storyline] where she thinks, 'I can babysit this kid,' and it's just utterly disastrous. They are really exploring, in a really sweet way, wanting this, and wanting to repair damage of their own past with this pregnancy and this kid. Are they really going to be good at this? A lot of good emotional stuff that's bringing them both closer together.
Unfortunately for Happy, the pregnancy will also bring out a new side to Toby. "He's very, very protective," Thomas says. "[Happy's] going to be hanging out at the garage a lot, because Toby's not going to let her get in harm's way. It's very much like an animal kingdom of an animal protecting his young. Toby is very excited and nervous and coming from a place of love and caring. Toby, like all of these characters comes from a broken family. This is his opportunity to get it right."
Adds Santora, "He loves her, he loves their baby-to-be, and it drives Happy up the wall. And then Toby starts worrying about everything from 'does Happy have the [ability] to be a comforting loving mom?'—she can be a little tough at times—to 'what if this kid isn't like us and we give birth to a normal?'"
Team Scorpion's biggest challenge yet.
Scorpion, Mondays, 10/9c, CBS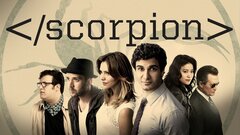 Powered by