'The Magicians': More Musical Numbers and Magic to Come in Season 2
Syfy hosted a New York Comic Con panel for The Magicians on Saturday at Hammerstein Ballroom moderated by self-proclaimed superfan Aisha Tyler (Archer). It kicked off with rap group Freestyle Love Supreme performing "Mo' Magic, Mo' Problems," launching into personalized rapped intros for each cast member and executive producer.
The panel featured exec producers John McNamara and Sera Gamble, and stars Jason Ralph, Stella Maeve, Olivia Taylor Dudley, Hale Appleman, Arjun Gupta, Summer Bishil, Jade Tailor and Rick Worthy.
As Season 1 came to a close in April, the group was scattered across Brakebills, Fillory and New York. Julia (Maeve) had aligned herself with The Beast (Charles Mesure), Alice (Dudley) and Penny (Gupta) had slept together, and Eliot (Appleman) had become the High King of Fillory. Here's some of the major takeaways from the panel:
The Books vs. The Show
The series has many similarities to Lev Grossman's New York Times bestselling novels, but the series is essentially a different world. "We joke a lot that we're in a different time loop from the books, same story, different time," Gamble said. "If we had an unlimited effects budget we might have done a whole episode as geese," she adds, referencing Season 1's short scene that was taken from a large portion of the books where the characters turned into geese.
RELATED: See the First Scene of The Magicians Season 2 Here!
Relationship Drama
We won't see an immediate reunion between Alice and Quentin (Ralph), according to Dudley. "When we left them at the end of the season, they're on a downward spiral," she explains. "The relationships, some of them have been burned and will be burned for awhile. The relationships take a little longer to deal with."
There is a bit of good news in the love department, though, for Dean Fogg (Worthy), "One thing that I think is really cool about the second year is that there's a little bit of romance coming for [him]," Worthy said.
General Drama
"All these characters are so beautifully flawed. You get to see them mess up in numerous situations," Maeve said. Dudley later adds a sentiment that sums it up pretty well: "Magic just kind of comes in and f–ks everything up."
Margo and Eliot
The dynamic duo is in shambles. Eliot can never leave Fillory, and his friendship with Margo (Bishil) is shaky at best. "She handles it with a lot of resolve, but like any relationship that's not the end of the conversation," Bishil said. And she'll be off being her own brand of awesome while Eliot reigns. "You're going to see Margo really holding her own without Eliot," she said. "She kicks serious butt this year." Bishil also hilariously recalled Margo's timely Season 2 nickname: Fillory Clinton.
And what of the new High King of Fillory? Is he emotionally ready to take on a throne when he's just beheaded his boyfriend? "I think the stakes are bigger," Appleman explained. "The move is to save everyone as opposed to let his boyfriend live." He added, "[Eliot's] heart beats louder than he would want you to think."
Julia and The Beast
Julia asked to make a bargain with The Beast in Season 1's finale, which is sure to cause some chaos in round 2. "They're like the Fred Astaire and Ginger Rogers from Hell," McNamara jokes. In all seriousness, Gamble teased that we'll get some "unexpectedly intimate scenes" between the evil figure and the scorned witch.
The New, Handless Penny
Gupta explained that Penny's new handless situation will have him depending on other people more, and leaving him with a decision about whether or not to continue magic (which is extremely difficult without hands). It also makes it difficult because as Gupta said, "Penny still hates everyone."
RELATED: Why Is The Magicians' Quentin So Obsessed With Fillory? (VIDEO)
Katie's Emotional State
"When you first meet Katie (Tailor), she's come from the streets of magic, so she's dealt with things that some of the other characters haven't," Tailor explained. "You get to see her go through an emotional journey this season. At the end of last season, she was dealing with so many things: the death of her mom, her separation from Penny and seeing Julia's trouble." Adding, "She's dealing with a lot of guilt." And what will guilt make her do? We'll just have to wait and see.
More Musical Numbers
How amazing was Ralph's rendition of Taylor Swift's "Shake It Off" in last season's dream sequence? Well, as McNamara explained, Fillory is a world where they can just break out into song whenever because, well, it's magical. Gamble described next season's two to three musical numbers as "big, grand" ones, mostly due to McNamara's love of musicals.
"He's like, 'Can we sing more?' I'm like, 'Can we talk about rape culture?' and together we make The Magicians." And we wouldn't want it any other way.
Watch a first look for Season 2 below.
The Magicians, Returns in January, Syfy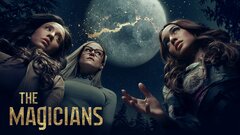 Powered by