11 Questions We Need Answered in 'The Umbrella Academy' Season 2 (PHOTOS)
[Warning: This gallery contains major spoilers for Season 1 of The Umbrella Academy]
Season 1 of Netflix's The Umbrella Academy was a major rollercoaster, but unfortunately for viewers who binge-watched it in only a few days, the series seemed to end mid-ride.
While "The White Violin" was a truly epic conclusion to the family-superhero drama, it perhaps posed more questions than it answered and wrapped up with a gigantic — and perhaps deadly? — cliffhanger. There's a good reason fans have started asking Netflix about renewing the show for a second season: even though a second batch of episodes hasn't yet been confirmed, leaving the Hargreeves siblings the way they were left at the end of Season 1 is almost unthinkable.
Should The Umbrella Academy be picked up for a second season, here are 11 questions we'd like the show to answer.
See Also
Klaus has it all: perfect comedic timing, incredible fashion sense, a heartbreaking love story, a desert-dry wit, and the power to communicate with the dead.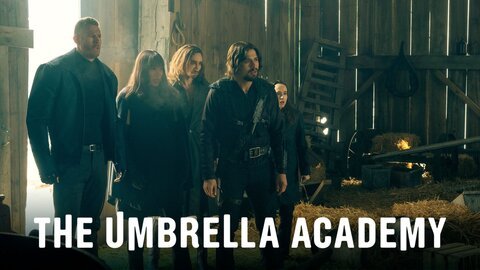 Powered by