'Outlander' Season 7 to Air in 2 Parts as Starz Sets Premiere Date (PHOTOS)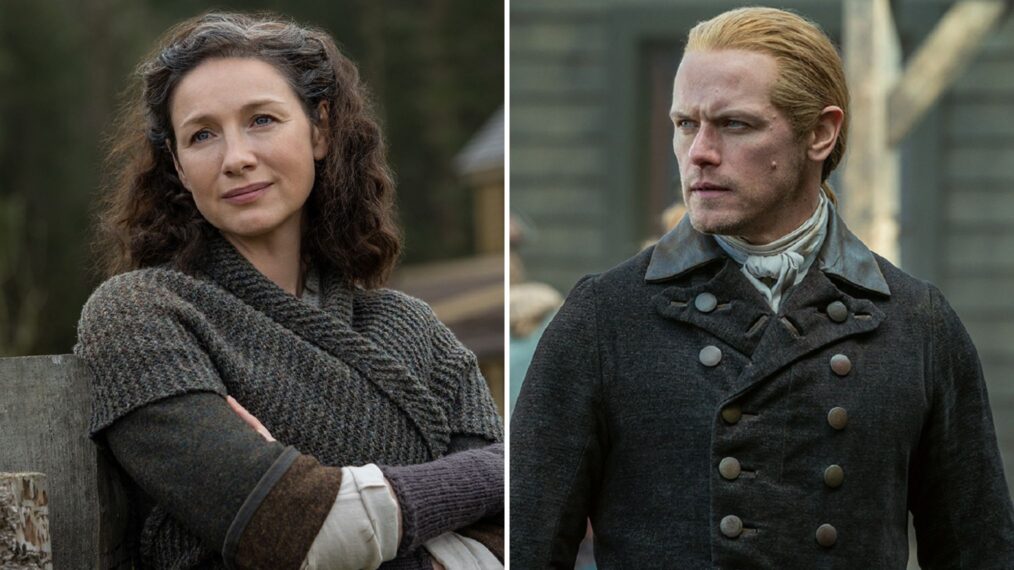 The end of Droughtlander is in sight as Starz unveiled Outlander's Season 7 premiere date, which will be split into two parts, offering viewers an extended look at Claire (Caitriona Balfe) and Jamie Fraser's (Sam Heughan) continuing love story.
According to the latest update, the first half of the 16-episode season will kick off on Friday, June 16 with the second half set to arrive the next year in 2024 on a yet-to-be-determined exact date. Each part of the season will include eight episodes, with an eighth and final season on the horizon beyond that along with the previously greenlit prequel spinoff, Outlander: Blood of My Blood.
In the meantime, fans can anticipate the arrival of Season 7's premiere which is dropping on the Starz app and On-Demand beginning at midnight ET, Friday, June 16. The show's linear broadcast debut is slated to take place a few hours later on the same date at 8 pm ET/PT in the U.S. If that sounds different, you wouldn't be wrong as Outlander previously dropped new episodes on Sundays.
Moving forward, new installments will stream weekly on Fridays at midnight and air weekly on the Starz linear platform. Along with these exciting debut details, Starz released several first-look photos featuring fan favorites (and a newbie) who are starring in Season 7. Besides the show's leading couple played by Balfe and Heughan, the images, below, highlight the roles of Sophie Skelton and Richard Rankin as Brianna and Roger MacKenzie, John Bell as Young Ian, David Berry as Lord John Grey, and new cast member Charles Vandervaart who steps in to play an older version of Jamie's biological son, William Ransom.
Additionally, Season 7 will feature Caitlin O'Ryan, Paul Gorman, Izzy Meikle-Small, and Joey Phillips among others. For those less familiar with the popular program, Outlander is based on Diana Gabaldon's best-selling book series which chronicles the time-traversing romance of World War II combat nurse Claire and 18th-century Highlander warrior Jamie.
Executive produced by Matthew B. Roberts, Ronald D. Moore, Maril Davis, Toni Graphia, Luke Schelhaas, Andy Harries, Jim Kohlberg, Caitríona Balfe, and Sam Heughan, Outlander's return is just around the corner. In the meantime, scroll down for a first look with all-new photos, and keep an eye out for more news in the weeks ahead.
Outlander, Season 7 Part 1 Premiere, Friday, June 16, 8 pm ET/PT, Starz (midnight on Starz app & On-Demand)