Best of 2019: 4 New Dynamic Duos We Love (PHOTOS)
From the moments that made us gasp to the performances that lit up our screens, here's a look at the best of 2019 — and the biggest cliffhangers heading into 2020!
With every year comes new characters — and new dynamics — on-screen for us to love. Whether it's a familial bond, platonic partnership, or workplace flirtation, we can't get enough.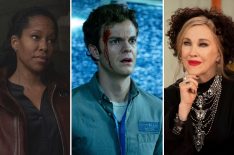 See Also
Plus, we reveal our most recommended shows and favorite performances.
Click through the gallery above for the new dynamic duos in 2019 that have us hooked.
For More of Our Best of 2019:
5 Series Finales That Did It Right
Biggest Scene Stealer: Meryl Streep on Big Little Lies
5 of TV's Most Shocking Twists