A History of 'Entourage' Backlash: What Critics Have Said About the HBO Comedy
Entourage creator Doug Ellin accused HBO Max of burying the 2000s-era HBO comedy. But can the streaming platform be blamed?
After all, the powers that be at HBO Max must be aware of what Slate's Eric Thurm called "the "vast, unceasing stream of critical urine that has continued to soak the dirt of Entourage's grave" in recent years.
See Also
Doug Ellin says his show is not getting the treatment it deserves despite winning lots of awards.
Speaking to Yahoo! Entertainment, Ellin claimed Entourage was "hiding in [a category alongside] architectural wish-fulfillment shows" on HBO Max, and he blamed "this wave of righteous PC culture."
The 53-year-old, who also wrote and directed the 2015 film adaptation, continued: "We were nominated for an Emmy and a Golden Globe almost every single year, so to not put us in front and [instead] to put other shows in the 'must-see comedy' list, I thought, was pretty bizarre."
Ellin also cited the warm critical reception Entourage had initially enjoyed, like how The New York Times' Alessandra Stanley called it smarter, more original, and more amusing than anything on network television.
As Entourage continued its eight-season run, however, the critical consensus started to turn. The comedy's Rotten Tomatoes score dropped from 76 to 60, then to 57, and finally to 46 for the final season around the same time that Jane Lynch quipped that Entourage is why she's a lesbian at the 2011 Emmys.
And Entourage has taken a beating in the years since, too, especially when the film came around. After watching the big-screen continuation, Cosmopolitan's Tess Koman observed that "there literally wasn't any woman in the movie who didn't serve a purpose other than to be hot and f—k bros."
Many TV shows wear out their welcome, but the backlash toward Entourage is particularly intense, especially because the show has stoked accusations of sexism, misogyny, and racism. "Entourage has curdled in critical opinion like Avión tequila getting sour in the sun," The Washington Post's Alyssa Rosenberg wrote in 2017.
In his interview, Ellin said he resented the HBO Max slight "because I don't think Entourage was this vulgar boy-fest that people like to paint it as now."
Here's a brief timeline of the backlash, including actors' damning statements about the show's work environment.
"Insensitive gay jokes"
In 2009, Rex Lee—the actor behind assistant Lloyd—told TMZ he was occasionally the subject of racist and homophobic jokes on set. Ellin told the site that he spoke to Lee and found out that the crew members had made "insensitive gay jokes" at Lee's expense.
"Conceived by a gaggle of misogynistic, beer-chugging adolescent virgins"
HuffPost contributor Brandon Judell said the 2015 movie "appears to have been conceived by a gaggle of misogynistic, beer-chugging adolescent virgins who brag about getting laid, but the closest they've ever gotten is a Playboy centerfold."
"A reliable font of crass humor and casual misogyny and homophobia"
In a 2015 review of the movie, WIRED's Kevin McFarland wrote, "A series known for its glorification of the Hollywood meat market, devoid of any critical satire or anything above the laziest humor, Entourage has long been a reliable font of crass humor and casual misogyny and homophobia."
"You finally hear the racism, the homophobia, and the sustained misogyny buried in the foundation of the series' premise"
IndieWire's Vikram Murthi recounted "falling out of love with Entourage" in a 2015 column. "What doesn't make sense is how long I continued to watch Entourage after I caught on to its shtick," Murthi wrote. "It only took a couple more years to realize all the flaws that were staring at you in the face. You finally hear the racism, the homophobia, and the sustained misogyny buried in the foundation of the series' premise."
"A preference of introducing the characters' more disposable partners nipple-first"
In a 2017 update of her original 2015 column, The Washington Post's Alyssa Rosenberg contended that Entourage like a "scathing documentary account of the entertainment industry's sexual culture." She added: "The house style, which includes a preference of introducing the characters' more disposable sexual partners nipple-first, makes the Fast and Furious franchise, which has its own share of upskirt shots, look like the vaguely Catholic family drama it's always aspired to be."
"Most women on this show are objectified to the point of absurdity"
"Most women on this show are objectified to the point of absurdity," Refinery29's Anne Cohen observed in 2017. "They are ogled, demeaned, talked down to, and generally reduced to the status of sex dolls that happen to walk and talk.… The assumption that any one of these women is ready and willing at all times, just waiting for these guys to deign to notice them, is perhaps the most grueling aspect of this show."
"They were like, 'Okay, can you take your top off now?'"
In 2018, GLOW star Alison Brie recalled that she was asked to strip during her audition for a bit part on the show, according to Entertainment Weekly. "Early in my career, I auditioned for three lines on an episode of Entourage that I had to go on in a bikini!" she said. "Or, like, shorts and the tiniest shorts. And they were like, 'Okay, can you take your top off now?'" (She later clarified that she wasn't asked to get "totally topless" during the audition.)
"I found the toxic masculinity, homophobia, blatant misogyny, and aggressive rape culture to be gutting"
After revisiting the Entourage pilot in 2018, Vice's Jill Gutowitz wrote, "As a 2000s kid, I admittedly felt a twinge of sentimentality watching digital cameras and flip-phones flourish in the pilot. But as a gay woman breathing air in 2017, I found the toxic masculinity, homophobia, blatant misogyny, and aggressive rape culture to be gutting.… If you're still scratching your head as to why so many men think they can get away with serially harassing and assaulting women, Entourage is one of many examples to look toward."
"That set was very testosterone-driven and misogynistic"
Debi Mazar, who played publicist Shauna on Entourage, criticized the show's workplace culture in a 2020 interview with PeopleTV. "I took a job to make money," she said. "I mean, [Ellin] wrote a really strong character, but that set was very testosterone-driven and misogynistic."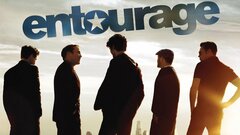 Powered by