Why 'The Circle's Catfish Twist Could Impact the Season 2 Finale
[Warning: The below contains MAJOR spoilers for The Circle Season 2.]
It's no question that Season 2 of Netflix's The Circle has viewers #GluedToTheirScreens. The innovative reality show sees its players competing in total isolation, as they complete challenges and vie for each other's popularity via the technology in their rooms. This seclusion allows any of the contestants to play either as themselves or as a catfish in order to walk away with the grand prize, a whopping $100,000. Needless to say, #Drama ensues. 
Yet, it is this drama that keeps viewers coming back for more with each weekly episode drop. The show's constant twists and frequent cliffhangers make the decision to press "next episode" an easy one. Not only that, but the players are so engaging that you can't help growing connected to them as they progress further into the game. 
In one of the show's most gripping plot twists, Circle contestants Jack (catfishing as Emily) and Lisa (catfishing as pop star Lance Bass) were blocked from The Circle, only to be given a second chance to continue their gameplay under the shared catfish profile, John. While Season 1 saw contestants (and mother-son duo) Tammy and Ed play under one profile, this season's twist was significant in that it brought together two existing players who had weeks of insight into the ever-important dynamics of the game. Although Jack and Lisa were certainly not the sharpest players on their own, together they are proving to be a force to beat. They've already made their way to the series finale, going down on May 5. Could John— er, Jack and Lisa — take home the grand prize? 
Keep reading for more reasons why John could be The Circle's toughest underdog. 
Two is Better Than One
As pre-existing Circle players, the two have a clear advantage over the other remaining contestants that they carry over from previous conversations had as Lance and Emily. But one of the most significant aspects of the competition is the isolation — the players have no physical contact for the duration of the game unless they choose to visit a contestant post-blocking. This complete seclusion can be difficult, as players only have themselves to trust. As John, however, Jack and Lisa (who are also sharing one space, with two bedrooms) get to compete using each other's guidance to make the most strategic decisions possible and bounce ideas off each other. Not only that, but their prior knowledge of their competition allows them to keep their cards close as the game comes down to the wire. 
A Psychic Connection
John's psychic occupation lets Jack and Lisa display their predetermined knowledge of the players while simultaneously earning their trust. When Chloe (who proclaims that she visits a psychic every week) gets an oracle reading from John, Jack and Lisa's quick thinking and knowledge of her in-game drama gain her trust in the believability of his psychic abilities. Making the smart decision to be able to read energies rather than mindread or predict the future, John is a believable psychic whose "abilities" may just get this duo across the finish line. 
Not a Snake in the Grass
Because John is a new player, he is detached from the #MajorAlliance drama forming amongst the rest of the contestants. Somehow Jack and Lisa have managed to stay free of the sticky situation that is the #Cardashians, made up of River, Courtney, and Chloe versus Trevor and the recently eliminated Mitchell. While John will likely have to get involved in this mess eventually, for now, his detachment is beneficial heading into the series finale. 
Age is But a Number
I mean really, who would think that a sweet, unassuming Santa Claus-emulating psychic from West Virginia is actually the work of a 20-something college student and a 40-something professional assistant? Somehow this unsuspecting duo forms a great pair. Jack may be a more calculated player than Lisa, but the two still manage to remain one step in front of their unsuspecting competition… for now. 
Season 2 of The Circle is available to stream on Netflix.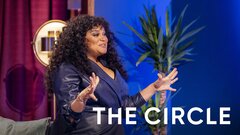 Powered by